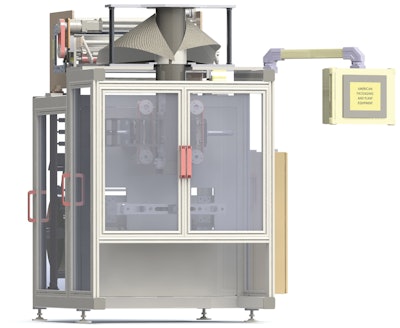 An ongoing collaboration between American Packaging & Plant Equipment and Emerson is yielding some impressive results. The best example is the VertoBagger 2.0, which will be a highlight of the Emerson booth at the upcoming PACK EXPO Las Vegas. This continuous-motion vertical form/fill/seal system leverages a number of Emerson controls and automation components from multiple Emerson businesses to produce up to 180 bags/min. APPE Sales Manager Al Aman explains how the APPE/Emerson collaboration got launched.
"We were approached by Emerson as they were looking for a high-speed continuous-motion vertical form/fill/seal machine on which they could showcase their Branson ultrasonic sealing technology. Once the conversation about the ultrasonic sealing jaws started, it soon became clear that they could incorporate technologies from more of their businesses into our machine. So for us it was like starting all over again as we adopted all the different controls, pneumatics, valve manifolds, servos, drives, gear boxes, and more. Remember, they're like an end-to-end solutions provider with all their different divisions. From their perspective, they liked the opportunity to showcase how well their different divisions can work together for a packaging machinery builder. And what we gain is being able to go from the VertoBagger, an intermittent-motion machine that we've offered for many years, to the VertoBagger 2.0, a continuous-motion machine with ultrasonic sealing and a controls platform that lets us produce 180 bags/min."
Aman says the ultrasonic sealing will be attractive to customers whose product—perhaps a piece of lettuce if salad is being bagged, or a splash of liquid if a beverage is involved—sometimes becomes an obstacle that prevents conventional heat-seal jaws from producing a perfect seal. Ultrasonic technology seals right through such obstacles as if they weren't there. Other benefits of ultrasonics include less energy consumption and not having to wait for the sealing jaws to cool down and warm up again if operators need to safely access some portion of the machine near the sealing jaws. APPE also will reap the benefits of a just-released DCX Digital Power Supply Series from Branson that features a smaller footprint, flexible mounting, more industrial control options, and improved diagnostics and data collection.
While the VertoBagger 2.0 is controlled by a PLC not supplied by Emerson, that's only because of time constraints. "We just didn't have time to incorporate our new machine controller and still have the machine ready for Las Vegas," says Emerson's Derek Thomas, Director and Brand Officer. He adds that the new controller, the MCZ Series machine controller, will be on display at PACK EXPO Las Vegas.
Emerson businesses in addition to Branson whose components are found on the VertoBagger include Control Techniques, ASCO Numatics, and SolaHD. All six servo drives and motors—for things like the two film advance belts, the nip roller, and the x and y axes of the sealing jaws--are from Control Techniques. Pneumatic valves, valve manifold, and cylinders are from ASCO Numatics.
Also from ASCO Numatics is the G3 Fieldbus, a recently introduced electronics platform that's built into the pneumatic valve manifold and carries data to and from the PLC. It identifies faults in pneumatic systems much more readily because a graphical display spells out exactly what and where a problem is in plain language like this: SHORT CIRCUIT CONNECTOR A. According to Emerson, no other pneumatic valve manifold has a graphical display.
"It delivers intelligence right there at the valve manifold," says Thomas. "It's a simple way of connecting not only pneumatic devices but also your I/O and running it all into a single cable. So you're simplifying wiring and putting troubleshooting right there at the device in a very clean package. Think of it as integrating fieldbus communications into a smart device. You can look at the G3 device and see immediately what an I/O fault is. You can see the status of position switches without having to go back to the HMI or the PLC for troubleshooting. You diagnose and troubleshoot right there at the pneumatic valve manifold."
From SolaHD comes the DIN rail-mounted SDU DC UPS, an uninterruptible power system for power conditioning, power quality, and power backup. Thanks to this UPS, if a plant loses power, the VertoBagger will go down but its control system won't. All settings and parameters are retained, which allows for a much more finely controlled shut down and restart. It also helps protect the machine from power spikes or drops, which means the machine runs smoothly right through any voltage disturbance that might occur.
APPE's Aman is looking forward to showing off the new bagger at PACK EXPO Las Vegas. He calls the work done recently with Emerson an "eye-opening experience. As we learned more and more about Emerson, we found the quality, capabilities, and pricing all very attractive. Even though we're a small company, we now can offer ultrasonic sealing technology on a continuous-motion bagger that runs 180 bags/min. Why wouldn't we convert to Emerson components?"
Thomas sums up the collaborative effort this way. "APPE caught our attention as an OEM with some good ideas, a machine builder looking to leverage innovation as a way of better positioning themselves in the marketplace. And they weren't locked into an established way of doing things when it came to controls and automation. We recognized them as a good fit with Emerson because we're in the middle of an effort to have customers see how broad a range of solutions we bring. Who better to partner with than a company like APPE?"
Companies in this article