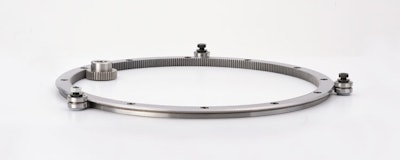 Pharma Packaging Systems, a specialist in the design and manufacture of electronic tablet/capsule counting machines, is deploying the latest PRT2 precision rings and GV3 linear slides from HepcoMotion for a new counting machine featuring a tare gross weighing system. The HepcoMotion products were selected for their accuracy and performance, factors that have been proven at Pharma Packaging for a decade or more.
The demand for the new PC180 counting machine arrived at Pharma Packaging via an application based on substitute narcotic tablets for a pharmaceutical customer in the USA. The system had to be capable of 200 bottles per minute, so it's configured in such a way that three containers are filled, weighed, and checked simultaneously. "But the overriding priority is accuracy, as we are dealing with a very important pharmaceutical application. We have used HepcoMotion products since our inception. Their products are accurate and perform well—in 11 years we've not had a failure, so why change?"
The PC180 system indexes empty containers three at a time, weighs them, and records the weight (tare). The containers are then indexed again and filled with a counted number of tablets. A final index sees the containers being weighed once more. Finally, the tare weight is subtracted from the product weight and the system identifies containers that either comply with the target weight or fail. Good product advances to an out-feed conveyer, while failing product is diverted down a chute to a reject area.
The PRT2 precision ring system is based on HepcoMotion's V guide technology and features an integral rack and pinion drive, which facilitates the precise indexing mechanism thanks to its friction-free, zero-play motion. The ring system is powered by a motor/gearbox package from an unnamed vendor.
"We've found the PRT2 system to be quite unique," says Barnes. "It's very easy to design around. In particular, it has allowed us to do away with the centre bearing mounting. This means we can run the conveyor through the center—it doesn't need to be offset—thus enhancing accuracy because containers that are not at 90° to the centerline can sometimes be a problem. We also like the fact that the PRT2 can run dry, without any need for lubrication, which is very important for pharmaceutical applications."
Elsewhere in the same machine, HepcoMotion's GV3 linear motion V guide and actuator systems are used for two different applications: in a vertical configuration to raise and lower the filling nozzles, thus accommodating different container sizes; and in a horizontal configuration to guide pneumatic cylinders that actuate gates that allow tablets through before closing-off for the next batch.
All Pharma Packaging Systems equipment complies with the latest cGMP requirements and is fully validated including 21CFR Part 11 compliance (where applicable). The systems are supplied with full documentation including detailed manuals, certification and IQ/OQ packages. —Pat Reynolds
Companies in this article