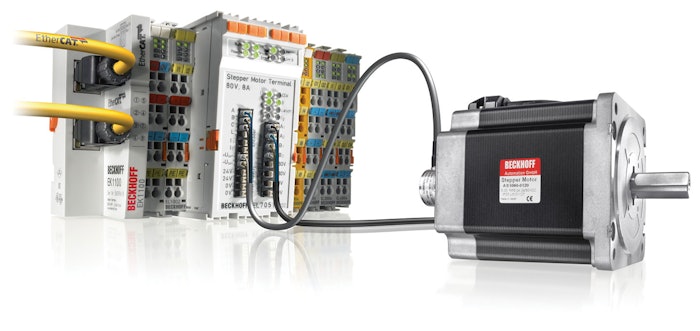 A maker of bag-in-box packaging machines based in Bruges, Belgium, Pattyn Packing Lines recently introduced the Model Ceflex-21. Operating at speeds to 12 cases/min, it automatically erects corrugated cases by vacuum suction, pulls a bag from a roll, opens the bag, and places the bag into the formed case.

The integrated bag-in-box system is controlled by a Beckhoff CX1010 Embedded PC with directly connected EtherCAT terminals. In addition to the standard I/O terminals, the Beckhoff EL7041 and EL7031 stepper motor terminals are used to control the four stepper motors used on the machine.

"Stepper motors are easy to use and have a long useful life, especially in packaging equipment," says Ruben Nielsen of Pattyn North America. "And if anything 'crashes' in the machine, the stepper motor will go back and find its original steps very easily. On top of that, stepper motors are very cost-effective."

"The Ceflex-21 clearly benefits from this modern drive and control solution," adds Joeri Haegebaert, software manager and quality tester at Pattyn Belgium. The rigid compressed-air driven systems for case forming and the opening and insertion of the bags are replaced by flexible systems driven by stepper motors, which exhibit a favorable torque behavior for such applications." The compact packaging module can be integrated easily into a fully automated Pattyn packaging line or the customer's existing packaging line.

"We decided to utilize Beckhoff's PC-based control technology because it gives us a number of advantages here," says Haegebaert. "On the one hand, other vendors' systems and devices can be integrated without any problems." The Ceflex-21 is a case in point: While the stepper motor terminals—essentially I/O modules that function like drives to move the stepper motors—are from Beckhoff, the stepper motors themselves are from Oriental Motor. "The openness of the PC controller," continues Haegebaert, "makes it easier for us to manufacture custom machines. Also, our customers value the ability to log directly into a PC environment."

Nielsen says the switch to this controls technology represents a move away from a more conventional approach of using a PLC to control functions in the machine. He says it's one less bit of programming and one step down in cost—with no drop in functionality. "In fact, we can do more," he says. "We can go faster. And in our next machine we'll take it a step further with fully automated changeover. Just press a button on the Beckhoff HMI and you change to a new bag-in-box format. There will be no adjustments by the operator."
Companies in this article