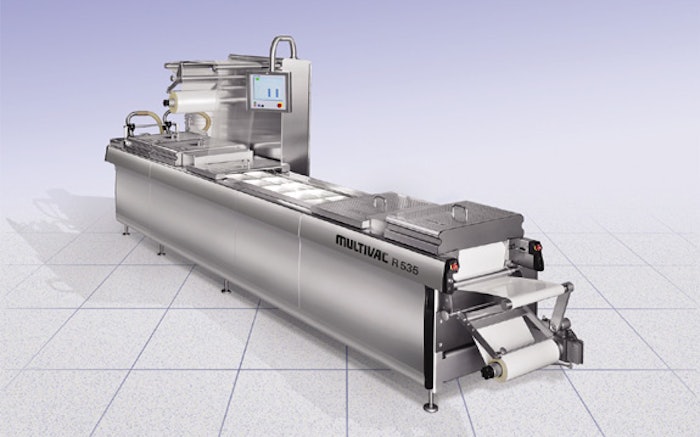 Introduced recently at the Worldwide Food Expo in Chicago, the Model R 535 thermoforming machine from Multivac forms and seals trays of food and other products at speeds to 600 packs/min. It's equipped with a Beckhoff CX1020 DIN rail-mounted embedded PC that centralizes control by handling PLC, motion control, and HMI functions in a single device. The industrial PC controller provides a direct backplane connection to Beckhoff I/O terminals, which in Multivac's case are networked via Ethernet as the system's fieldbus. According to Multivac's Michael Krieger, this represents a significant controls improvement.
"We used to use a proprietary system more or less tailored for us," says Krieger. "It kept cost down and worked well enough, but this off-the-shelf solution we have now is much better. It eliminates the need to have one controller for HMI and a second for machine functions."
Measuring 96 x 112 x 99 mm, the CX 1020 controller helps Multivac keep the size of the controls cabinet to a minimum. The controller runs Windows' XP embedded operating system and Beckhoff's TwinCAT NC PTP (Point-to-Point axis positioning) control software. Beckhoff adheres to OMAC guidelines and incorporates the PackAL function-block library into the TwinCAT software environment.
"We see more customers asking for OMAC compliance," says Krieger. "When the machines that we build adhere to such guidelines, it makes it easier to integrate them with other machines from other OEMs on a fully networked basis."
Krieger says Ethernet connectivity in the Multivac machine was available before this new controls package was adopted. But once again it was more customized than off the shelf. "Now with an industrial PC that has Windows embedded, it's like hooking up any PC to your LAN," says Krieger.
Acquiring data on operating conditions, including reasons for stoppages that occur, is made easy by the controller. Via Ethernet and an optional OPC interface, data can be exchanged between the packaging machine and a company's central database.
Krieger also points out that the R 535's advanced clean-in-place technology is controlled by the Beckhoff controller.
Companies in this article