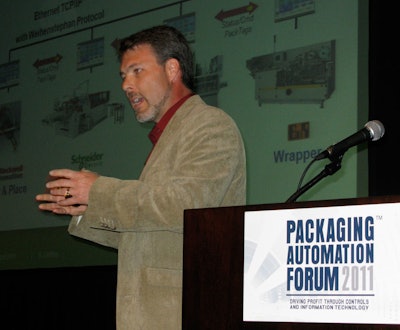 Sponsored by Summit Media Group publications Packaging World and Automation World, the sixth annual Packaging Automation Forum attracted its usual roster of high-caliber speakers. Each in his or her own way explored some aspect of the place where manufacturing and packaging meet controls technology, automation solutions, and IT. Most prominent in this info-packed day were the themes of safety, quality, productivity, stewardship, and demand creation, each a key area of responsibility for a packaging plant manager.
Safety
Every employee has a right to return home from work in good condition. Roberta Nelson Shea of Safety Compliance Services LLP cited a Vanderbilt University report that claims safety as one component of sustainability. Safety is a socio-economic component that represents a part of a company's role of doing right by its employees.
Companies like Kraft Foods have developed an appropriate safety culture to see that this happens in every plant. David Herrington, Director of Safety and Environmental for the grocery and beverage units of Kraft, explained that the criteria for a safety culture include involvement by all levels of the organization in the safety processes; a demonstrated senior management commitment to safety; accountability for the execution of the safety activities; employee involvement; and a positive, flexible, and adaptable program.
According to Shea, safety seems difficult to achieve in today's lean environments. Compliance can be a moving target and safety competence is difficult to find. Fred Hayes, representing the Packaging Machinery Manufacturers Institute, helped the audience to understand why, in a global economy with many national interests, simplicity seems elusive.
As programmable electronic systems (PES) are used to implement safety in increasingly complex equipment, the lack of ability for safety systems to communicate with one another was an issue identified by Bryan Griffen of Nestle. Herein lies a potential opportunity to apply PackML concepts to create an open-safety standard that will facilitate the lean integration of safety across multiple machines.
Safety will not come about merely by encouraging employees to act in safe ways, but through a suite of program elements embedded across an organization. Today we see more emphasis being placed upon ergonomics, risk assessment, engineering controls, and documentation as they relate to safety. This increasing emphasis is affecting not just the machine and equipment manufacturers, but also the people in the plants and those who procure and install new assets on the customer side.
Plant managers should ensure that their safety culture includes safety processes that begin when new machines are being specified and continue on throughout a machine's lifetime. Shea recommends that purchasing specifications reference the applicable standards, that buyers be upfront about the skills of their workforce, and that the operating conditions and expectations be fully disclosed. With these items on the table, a task-based risk assessment should be completed before a machine design is approved. Get complete and full documentation that covers all of the aspects of the machine, not just the electrical systems.
Quality
Quality is the process of producing products that meet specifications. It is but one of three elements of Overall Equipment Effectiveness (OEE), the other two being uptime and rate. It is fair to say that we cannot produce quality without measurement. We may either measure to ensure that our processes are in control and thus infer that product quality is achieved, or we may measure product attributes directly to ensure quality. Product attributes may be measured in-line, near-line, or off-line in a laboratory. Typical hybrid manufacturing/packaging operations perform a combination of all of these to insure product quality.
In today's world, when we discuss production, quality is assumed. Once basic quality and product safety issues are addressed, much of the quality discussion resembles a productivity discussion. In this context, Don Enstrom, Senior Director Manufacturing & Engineering Services at Cliffstar Corp., shared experiences with implementation of Overall Equipment Effectiveness (OEE) and Statistical Process Control (SPC) solutions. Cliffstar (which has been acquired by Cott Corporation) has a disruptive manufacturing environment, with the record for changeovers on a single line being 42 in one day. This amount of disruption can surely lead to variability that presents opportunities to achieve both quality and efficiency benefits.
In its juice bottling plant, Cliffstar was challenged with both direct material losses, process variability (quality) losses, and labor efficiency losses. By reducing these, Cliffstar saw potential to increase capacity, reduce capital, improve performance and quality, and improve customer and consumer satisfaction.
A two-step strategic plan was created to maximize return on investment. Step one was to develop a continuous improvement model using manual measures and basic lean and six sigma tools that would be implemented at all sites. Step two was to provide automated real-time performance measurement in a phased installation of a scalable system and compare its results to those from the manual system. As this OEE-based system was being expanded, a pilot of SPC was planned.
As this plan developed into the first full site implementation, plant line efficiencies responded in the first 30 days. Results were a 3.1% higher average efficiency five months into the project. This pilot delivered an internal rate of return of 157%, which extrapolates to a potential $3 million near term savings across five plants.
The SPC pilot implementation resulted in reducing bottle overfill by 76% in the first 30 days and indicates a short term potential five-plant opportunity of $1.1 million. Such results have guaranteed ongoing executive sponsorship.
Productivity
Productivity involves performing within or improving upon the budgetary boundaries that have been established for an operation. Productivity will depend upon the efficient use of labor, energy, and material and is thus affected by all three components in the OEE equation. Several of the presenters at PAF drilled down into the details of their internal programs for driving productivity.
Jim Whalen, Director of Operations Services for Rich Products Corp., described the simple principles and hard work involved in Rich's Manufacturing Line Optimization (MLO) program. This program has as its goals to develop processes and systems to track and optimize productivity and utilization, to identify and develop the key skills required of associates to support the program, and to develop standards, metrics, and targets along with communications to develop pay-for-performance systems.
Building upon lean principles, management took the approach of using OEE metrics as the basis of assessing performance. The company realized there was extensive opportunity to drive cost savings across 110 production lines by improving the quality, consistency, and frequency of data collection and by providing tools and processes that would empower their engaged associates and leaders to drive continuous improvement.
Whalen cited data from industry analysts showing that only 16% of firms describe their lean/continuous improvement programs as successful, and only 9% claim to sustain savings over three years. These findings drove Rich Products to take a hard look at the six greatest challenges to success in the continuous improvement game. These include: 1) resource constraints; 2) front line disengagement; 3) ineffective training; 4) lack of cross-functional support; 5) poor project selection; and 6) loss of organizational focus.
In addressing these challenges, one of the key strategic decisions was to adopt a common platform that would standardize the computer integration strategies across the entire manufacturing network. Once this was achieved, plants and associates could evolve collectively, sharing best practices and accumulating lots of base hits while not worrying so much about home runs. This strategy, borrowed from Cargill, was followed even if it meant that some plants needed to take a step backward.
Another key area for driving success is change management. Change management stages are defined by the term ADKAR. Best practice includes managing the processes of creating Awareness of the need for change, moving that awareness to Desire, providing Knowledge to create Ability, and Reinforcing, auditing, and recognizing people to keep the change in place. But the number one success factor for change is executive sponsorship and keeping leadership actively engaged in the change.
By following these steps, the associates at Rich Products were able to apply the tools installed to achieve results such as increasing OEE from 67.8% to 72.5%, improving performance from 83.8% to 89.8%, and reducing the average downtime event from 12.9 to 6.7 minutes. These accomplishments came with improving planning rates, which resulted in reducing shifts, increasing capacity, and reducing inventory. All this was achieved by the hard work of applying simple principles.
Stewardship
Plant managers are the stewards of millions of dollars worth of corporate assets. Good stewardship includes fully utilizing those assets, and a number of PAF presenters discussed the desire to improve utilization, a key term in calculating OEE.
Ed Michel, Computerized Maintenance Management System Manager for Frito-Lay, described Frito's five-year journey from having 60% of their plants with greater than 2% equipment total downtime to 60% of their plants having less than 1.5% equipment total downtime. In this measurement, downtime is defined as hours of equipment down divided by scheduled hours, or process-related downtime.
The first step toward reducing downtime was to create a process known as ARM. Improving downtime through the Frito Asset Reliability Model (ARM) helps to avoid capital expenditures, create a safer work environment, improve sales compliance, reduce waste and overtime, improve consumer satisfaction, reduce inventory, and take the company from good to great. These improvements were considered a cultural revolution.
Michel laid out the seven laws of ARM, which in summary are: 1) document 100% of all work done by operators or mechanics; 2) develop detailed plans, including kitted parts, by skilled maintenance planners; 3) create a master preventive maintenance schedule based upon conditions, not time; 4) integrate preventive maintenance scheduling with the master production schedule to ensure execution; 5) log all parts out of inventory to specific pieces of equipment; 6) train and certify all mechanics in the critical skills needed; and 7) maintain plans to address the top 5 equipment issues and the top 5 structural down time issues for every line in the plant.
Demand Creation
Many plant managers will try to avoid participating in demand creation activities, which are frequently disruptive to manufacturing. But if we don't create demand for and within our own plants, someone else will create demand for their plant at our expense.
Several presenters spoke to the issues of demand creation. PAF started off with a thought provoking presentation by Bill Akins, President of Genofish, who presented the emerging concepts of "Store Genetics." Retailers are customizing their stores at the neighborhood level, and therefore packagers will be presented with both the demand and the opportunity to customize their products at the neighborhood level to create increased demand.
Social networking is changing the world in ways and at speeds never before seen. Marketing is taking place everywhere, micromarketing is becoming pervasive, and shoppers can compare prices across multiple outlets merely by pulling out their smart phones as they shop. These trends will create intense pressure for productivity, flexibility, and ever-changing and new products. The pressures in the plant that will be brought about by new demand creation drivers will be intense.
Nestle already sells one billion items per day from a suite of some 10,000 products made in over 450 factories. The complexity of demand creation must be enormous. This is why Nestle is looking for more efficient ways of creating new capacity in their packaging area. Their strategies, as explained by Nestle's Griffen, are to use more international standards for equipment purchases, improve safety systems to maintain productivity, focus on reducing the cost of horizontal equipment integration, and find better ways of getting actionable information from lines through vertical integration. Nestle sees the OMAC Packaging Workgroup's PackML standard as a tool that can assist in each of these areas.
Plant managers will be faced with the three-fold challenge of making existing assets more flexible for product changes, increasing the capacity of existing assets, and finding more expeditious ways of bringing new assets into the plant, starting them up, and integrating them with existing processes. Demand creation is bound to play a more prominent role for many plant managers.
If you want to be an effective plant manager, you need to be knowledgeable of and provide balanced focus among each of the five areas addressed by the speakers at PAF 2011: safety, quality, productivity, stewardship, and demand creation. Each area brings its own need for skills and experience. Yet each area is intertwined with the other. You can't touch productivity without affecting quality, safety, maintenance, or demand. And there are some basic principles and best practices that are common for executing programs in each of the areas.
Thanks to all of the PAF 2011 presenters for sharing their experiences.
Companies in this article