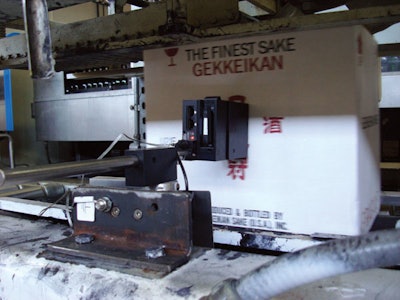 Gekkeikan Sake (USA), Inc. is saying sayonara to messy, unreliable date coding for its corrugated cases of sake product with new high-resolution ink-jet printers from Digital Design (http://highresolutioninkjetprinters.com/). The Folsom, CA, facility replaced the contact-style roller coding system and hand-stamping operations on its first and third package-filling lines, respectively, with Evolution I printers to ensure consistent and reliable date-coding.
Citing the challenges of Gekkeikan's previous coding solutions, vice president of production Bill Piper says, "First of all, you have the messiness of dealing with ink. Then on Line 1, there were times when the old equipment simply wouldn't reset properly, so you would end up with a case that didn't have a date code, and you would have to go back and hand-stamp it anyway."
The Evolution I high-resolution, large-character ink-jet printer, supplied by Associated Packaging (www.associatedpackaging.com), uses Hewlett-Packard ink-cartridge technology. While Piper notes that the cartridges themselves cost more than the consumables used before, "that's offset by the reliability and the lack of cleanup required," he declares. Piper adds that printer programming is easy too, through the use of a hand-held controller that connects to a USB port. The case-coder is capable of operating at 425 pieces/hr on Line 1, and at 360/hr on Line 3.
"The Evolution I coder is just far more convenient, far cleaner, and far more consistent," Piper concludes.
Companies in this article