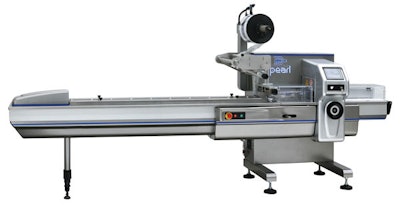 Separated by half a continent plus the expanse of the Pacific Ocean, Sweet Eddies and the Hawaiian Chip Co. have a common denominator: the city of Las Vegas. The owners of both firms attended Pack Expo Las Vegas in 2007 and found equipment that has helped their businesses significantly. Their 2007 experience has convinced them to return to Vegas for Pack Expo 2009, which runs October 5-7 and is sponsored by the Packaging Machinery Manufacturers Institute (www.packexpo.com).
Sweet Eddie's, based in Smyrna, GA, is a maker of cinnamon rolls and other baked goods. Owner Ed Allen saw Pack Expo Las Vegas 2007 as an opportunity to meet several potential technology partners and a chance to compare system features and options. He wound up purchasing a horizontal wrapping machine and a transfer printer at the show, and these have helped his firm boost output and supply individually date-coded products. The wrapping machine came from PFM Packaging Machinery Corp. (www.pfmusa.com), and the 18 Series thermal transfer printer is from Markem-Imaje (www.markem-imaje.com).
PFM's Pearl wrapper pulls film from a roll and heat seals products in pillow-pack style packs. Three axes of servo motion—the film feed, the product infeed belt, and the crimper—are executed by AKM Series motors from Kollmorgen (www.kollmorgen.com) each paired with a Kollmorgen Servostar drive. Logic and motion control are both governed by a CTN 230 motion controller from CMZ Sistemi Elettronici (www.cmz.it). The HMI from Hakko (www.hakko-elec.co.jp) lets the operator interface with the CTN 230 controller, so the operator can adjust all the machine settings and save them for regular automatic adjustments to bag length, print registration position, positions of the crimpers, the dwell time, and the wrapping speed.
The Pearl replaced a smaller wrapping machine from PFM, which Sweet Eddie's had outgrown. Installing the new system allowed the company to wrap its products faster and more efficiently, resulting in a significant increase in daily productivity and output.
Special features of the Pearl horizontal wrapping machine further improved the efficiency of Sweet Eddie's operations. A no product/no film function cuts material waste by immediately halting the machine's crimper and stopping the machine if there is no product on the line. This ensures that no bags will run on the line without product inside. The system's "product out of place" function stops the line if it senses a product is positioned incorrectly, preventing machine jams.
Additionally, the servo-driven Pearl simplified operations and reduced the amount of manual labor for employees. The computerized settings enabled workers to quickly and easily adjust the size settings for different products running on the machine. With fewer manual adjustments to make, the company also saw a reduction in changeover time.
"Workers have found the new machine to be very user-friendly," Allen said. "We don't change the product out on the machine too often. However, if we were to run cookies for three hours and switch to running muffins for six hours, it saves time to have the automated settings."
Though the machine is primarily used to wrap the company's cinnamon rolls, it also has the capability to wrap other offerings in different sizes, leaving the door open for future expansion.
New date coder, too
The 2007 trip to Pack Expo Las Vegas also led to the purchase of an 18 Series thermal-transfer printer from Markem-Imaje to meet customer demand for date-coded individually wrapped products.
"Prior to this purchase, we only date coded boxes of items, rather than each individual one," explained Allen. "The new system changed that, so now our customers know they're getting the freshest product possible."
The 18 Series features real-time digital coding, a 1-mm gap between prints, a dockable LCD handheld user interface, and the ability to set automatic date rollover, eliminating manual type changes. The compact coder is designed to maximize the use of ribbon consumables to reduce waste. It requires little maintenance and allows the user to change information instantaneously, for reduced downtime.
Allen looks forward to fostering future growth for his business with the help of more innovative packaging technology. He plans to be at Pack Expo Las Vegas 2009, possibly with his production manager in tow, to search for more cost-saving and productivity enhancing equipment.
"Pack Expo is a great forum for small companies like Sweet Eddie's," Allen said. "The show houses a lot of good ideas for growing a business, and being able to shop comparatively among many potential suppliers in one place is an efficient way to find what you need."
Potato and taro chips
James Chan couldn't agree more. He's the owner and founder of Hawaiian Chip Company, a Honolulu-based maker of sweet potato and taro chips. He plans to return to Pack Expo this fall in search of new weighing and filling equipment. A visit to the last show led to the purchase of a scale and slicer that helped expand his company's offerings, increase speed and hourly output by almost 30%, and decrease waste.
It was while watching an episode of the Food Network's "Emeril Live" that Chan was inspired to launch his own business. Watching celebrity chef Emeril Lagasse toil over taro chips, Chan believed that he could successfully market his own recipe for the snack. To add some variety, he also decided to launch his own brand of sweet potato chips.
Sold predominantly in markets and gourmet food stores throughout Hawaii, the chips can be purchased in either 12-oz bags or individually-portioned 4-oz bags. They can also be found in the regional Costco stores and will soon be available in local Target stores. The Hawaiian Chip Company also distributes its products to specialty stores in the Bay Area, Southern California, and Las Vegas.
When Chan started his business, the chips were only available in 4-oz bags. As demand increased, Chan realized he could begin reaching more traditional retail outlets—and more consumers—by packaging the chips in larger, multi-serve portions. To accomplish this, Chan knew he had to modify his existing operations to increase productivity and overall speed.
"The time had come to invest in new equipment that would facilitate the growth of our business," says Chan. "Our current scale and filling operation limited our production to the four-ounce bags. We needed a more flexible system that would accommodate the larger bag format and speed up the weighing process."
Chan decided to spend a few days at Pack Expo searching for more accurate weighing and filling equipment. With more than 1,200 exhibitors covering the entire packaging supply chain, Chan knew the show presented the most cost-effective way to source the technology he needed.
After carefully researching his options, Chan arrived at Pack Expo Las Vegas with a short list of exhibitors to see. He viewed the technology on the show floor and spoke with exhibitors directly. Then he purchased the AW-9 AutoWeigher filling machine from WeighPack Systems Inc. (www.weighpack.com).
WeighPack's AW-9 can handle weight capacities of 1 oz to 10 lb and works up to 15 cycles/min on one or three pan configurations. It also features tool-less removal of weigh buckets and foot pedal for semi-automatic operation. There is an auto-function for automatic operation, and the two-speed, bulk-and-dribble mode offers highly accurate weight control.
After installing the new WeighPack scale, the Hawaiian Chip Company was able to bag multiple varieties of chips simultaneously, decreasing downtime by about two hours each day and increasing the operation speed by nearly 30 percent. The improved accuracy of the scale also facilitated the introduction of the new 12-oz bag size.
"We were familiar with WeighPack's products prior to the purchase, so it was an easy transition to the new scale," said Chan. "Since making the investment, we've seen a 30 percent increase in our output each day."
Cutting out waste
Weighing and filling weren't the only bits of automation that caught Chan's eye at Pack Expo 2007. He also saw a demonstration of what would be his second purchase: an ECD 202 slicer from Seven Chefs (www.sevenchefs.com).
"I had not originally planned to purchase a slicer at the time, but I was very impressed by what I saw in the demo," explained Chan. "Actually seeing the equipment in action can have a significant impact on a purchase decision."
The Hawaiian Chip Company's existing slicer produced chips with varying thicknesses, which significantly affected chip cooking times. This inconsistency resulted in variations in taste and appearance—not to mention considerable product waste.
The ECD 202 is equipped with long-lasting razor-sharp blades for extra-clean cuts. It only takes 15 seconds to change blades, ensuring fast changeover. After a two-minute belt and blade removal, the entire machine is ready for the sanitation process with full access to all machine surfaces that require cleaning.
Used predominantly to produce taro chips, the new Seven Chefs slicer improved overall quality with its larger, more consistent slicing ability. The amount of product waste has also dropped from as high as 10% to roughly 1%.
After nine years of seeing his business grow, Chan continues to search for new ways to streamline manufacturing processes. After such a successful trip to the last Pack Expo Las Vegas, he plans to return to the show this year in search of more new ideas and innovative solutions.
"I originally attended Pack Expo after hearing about it from other manufacturers in my industry. Once there, I found that there was a major benefit to having so many solutions housed in one location," Chan said. "This year, I hope to find other new packaging technologies that can help us expand our business and become more efficient."
Companies in this article