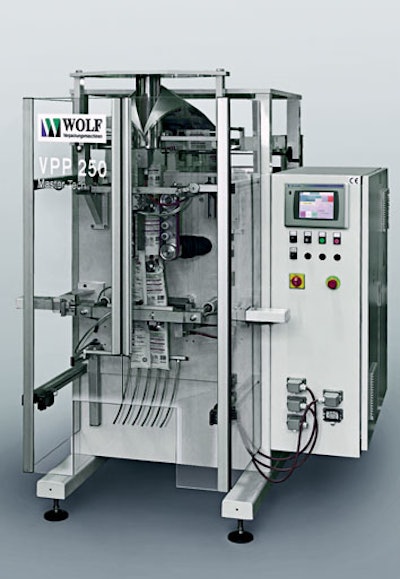 Unexpected machine downtime due to unforeseeable failures can put a real damper on equipment efficiency. But users of packaging equipment from Wolf Verpackungsmaschinen GmbH (www.wolf-pack.de) can worry less about unplanned downtime thanks to condition monitoring and diagnostic systems. They not only monitor critical components and process states on-line but also provide a timely warning of any deviations from a pre-assigned reference value.
Wolf's Model VPP 250 vertical form/fill/seal machine is a good example. With a cycle rate of 100 bags/min, the machine is equipped with a diagnostic system from Festo (www.festo.com). This provides continuous monitoring of the pneumatic components and direct monitoring of process-related parameters. The flow rate sensor MS6-SFE and the pressure sensor SDE1­—both from Festo—monitor deviations from a reference value for compressed air. The measured data and the available valve control and proximity switch signals are read into the Festo CPX electrical terminal and processed in the FEC controller module, also from Festo.
Process parameters—belt wear, for example, or the effect that accumulated film contact might have on rollers and other parts—are also monitored. This is accomplished by means of position measurement of the pneumatic feed cylinders using a Festo SMAT Position Transmitter. The cooling air flow rate and pressure are also monitored as process and film-related variables to avoid unnecessary use of compressed air. With transverse sealing, wear and tear to the blade is monitored via the positioning time of the cylinders; with longitudinal sealing, premature wear is monitored via the travel time of the cylinders. Stroke counters on the cylinders and switching cycle counters on the valves provide information on the service life and recommended replacement time. The electrical peripherals of the CPX I/O Terminal monitor events such as short circuit, wire breakage, overvoltage, and valve blockages.
Diagnostic characteristic values for detecting leaks and positioning times include, for example, air consumption and operating pressure. Malfunctions and the location of faults are detected via diagnostics. Functions such as counted valve switching cycles and executed cylinder strokes assist in preventive maintenance. The results are displayed on the FED touch panel from Festo.
Results are also made available to the machine controller via fieldbus, so it's a diagnostic solution that's easy to integrate into an existing control concept. Moreover, all diagnostic data can be accessed globally. As a result, the service technicians at Wolf Verpackungmaschinen, the maintenance personnel at Wolf's customers, and external service providers can all increase system availability and optimize maintenance processes.
Companies in this article