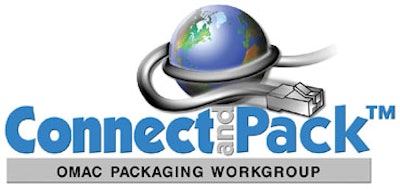 In the title of Keith's blog "OMAC should maintain a simple focus on packaging," we think it should say "OMAC Packaging Workgroup should maintain a simple focus on packaging" because OMAC is larger than just packaging and needs to focus on more than just packaging. In fact, the roadmapping session at the OMAC symposium made it clear to us that we need to become much broader than we currently are.
• OPW continues to have a packaging focus, and the OPW Executive Committee has been making every effort to focus on the business benefits of the Connect-and-Pack guidelines and put more focus on training.
• The PackAdvantage group for the past 18 months or so has been promoting much more of a business focus and helping us figure out how to market our message better.
• OPW is participating in the educational seminar at the Packaging Automation Forum this year.
• OPW is in the process of developing a spec for a demo/trainer unit so that tech providers can build demos to demonstrate Connect-and-Pack guidelines. We plan to use this as the basis for technology providers to build demo units for the OPW booth at PackExpo 2008.
• Last year at PackExpo, our booth had much more of a business focus.
• The OPW brochure was updated for PackExpo and has much more of a business benefits focus.
• We are in the process of getting PackML and PackTags included in the S88 Part 5 standard. OPW believes that making it a standard will help accelerate adoption by users and machine builders.
• We are seeing more adoption by machine builders based on what we saw at PackExpo 2007.
• We are probably putting more focus on the "more advanced" users, but those are the members active in OPW and supporting the effort, and we have limited resources.
• PackML and PackTags are being pursued by the machine tool group to provide similar benefits for machine tool as they have done for packaging. OMAC sees this as a good thing. The machine tool group has to figure out how to adopt it and make these packaging guidelines work for them in machine tool. This dilemma of how to do that is a good problem to have. Actually, PackML was not an idea created by the OPW, but was a concept they took from the batch folks, called S88, and reapplied successfully in packaging. The machine tool group will need to figure out how to take PackML and PackTags and apply that concept successfully in their business, just like OPW took S88 and created PackML and PackTags.
Companies in this article