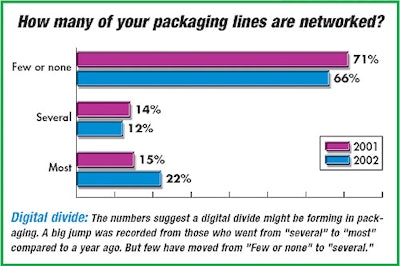 An exclusive Packaging World survey reveals that more packagers are inching towards networking their packaging lines compared to a year ago. But a digital divide may be forming between companies whose lines are nearly all networked and those whose lines remain islands of automation, with few companies in between. The results were from a survey of 129 packaging machinery users, conducted this summer on Packworld.com.
Although half of the respondents plan more packaging line networks in the future, several obstacles remain. Despite the fact that there are definite business benefits to networking packaging equipment (see pull-out poster, this issue), many users find such benefits elusive, hard to grasp, and difficult to articulate. Indeed, the survey showed the two biggest obstacles were ones of perception, not technology—either respondents didn't perceive any benefit to networking, or management couldn't be convinced to loosen the corporate wallet.
Packaging machine builders were also surveyed. The results of that survey will be published in an upcoming issue.
See sidebar to this article: Methodology
See sidebar to this article: Packagers intrigued by equipment monitoring