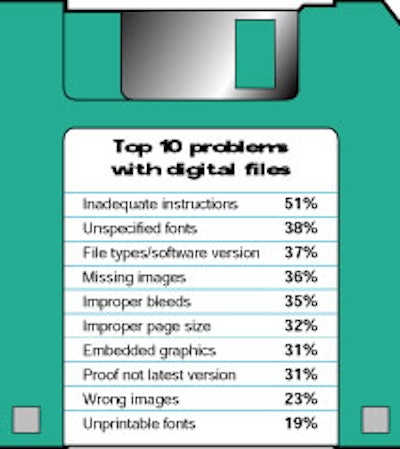 One of the most frustrating areas for many of us in publishing is the digital revolution, most particularly the transfer of electronic files from one computer to another. On the face of it, it seems so simple, whether we're using e-mail, floppies or hard disks, or computer to computer. Saving a file to a disk or attaching one to an e-mail message isn't one of the most complicated tasks, whether in a PC or a Mac environment.
In fact, it's too easy. The amount of personal follow-up that's often required can be daunting. While this technology promises to overcome both the costs and time delays inherent in delivery of "hard copy," the bedeviling problems of incompatible software, not to mention font transfer, make us long for printed paper and photos or slides. Requiring the resending of copy or images in different formats or in files translated into different software can be a challenge.
Fortunately, a publication we received early last month reassures us that we are not alone, even if the basis for the study was primarily the transfer of graphic files. The Hammer Lithograph (Rochester, NY) News reports on a research study conducted by Frank Romano at the Rochester Institute of Technology School of Print Sciences. Romano's Top 10 List of Problems with Digital Files (shown here) include many issues that are exclusive to art files (bleeds, page sizes), but other problems he cites develop even with files that contain only simple copy. Similar problems can also occur when we try to download files from the Internet if our computer is not equipped with some of the software that's needed to translate copy and images.
Somewhere down the road, I'm sure many of these irritations will be overcome by standardized software systems. But for now, incompatible software creates both personal and professional bottlenecks that force us to make lots of phone calls—calls that, if made first, could have prevented the miscommunications in the first place.
The situation isn't far from the hardware and software dissimilarities that engineers agonize over with machinery controls systems. If this is inhibiting your company's productivity, I hope you become involved with the drive towards controls standards that began with a meeting during Pack Expo Las Vegas (see Packaging World, Dec. '99, p. 33 or packworld.com/go/omac), and continues with another meeting next month in Orlando, FL.
Foodservice communications
Also late last year, the Efficient Foodservice Response initiative launched a new campaign to help improve communications between manufacturers, distributors and retailers. "Let's put foodservice behind bars" is the theme of the drive to have scannable bar codes put onto the shipping containers that carry products in the foodservice supply chain.
Together with the Uniform Code Council, the executive committee of EFR challenges the foodservice industry to voluntarily use standard production identification first, and later to adopt UCC-compliant bar codes on all shipping containers.
"The argument for standard product identification and UCC bar codes on cases boils down to three simple reasons: money, productivity and consumer safety," states Kevin Malchoff, EFR executive committee co-chair and the executive vice president of Rich Products Corp., Buffalo, NY. "The industry could squeeze up to $847 million annually out of the supply chain," he says, through the use of standardized coding. The savings, Malchoff says, come from streamlined transportation, handling and administration.
Standardized codes, adds Tom Lankford, executive vice president of distributor Sysco Corp., Dallas, TX, "could reduce costs by eliminating myriad company-specific databases that impede communications and lead to duplication of effort" including re-keying information and cross-referencing of products. From a safety standpoint, codes will allow the industry to better track product, potentially accelerating its response to product recalls, Lankford points out. An illustration of the suggested code placement is shown on page 88.
And help is on the way. EFR has published a guide, Standard Product Identification and Bar Codes: The Cornerstones of EFR, that can be ordered from the group's fulfillment center (phone: 301/843-3084). In addition, workshops are planned for March and April, and a book of case studies is expected to be published next December.
My guess is that this is far from the last call we'll hear about how standards will help us all to improve our communications, cut our company costs and reduce annoying delays.
Companies in this article