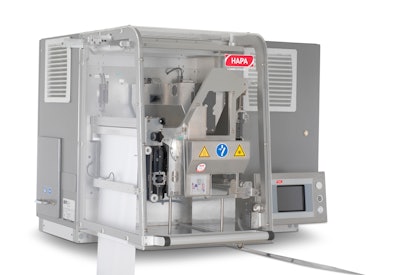 This content was written and submitted by the supplier. It has only been modified to comply with this publication's space and style.
Despite having long set up times, having poor legibility, and creating occasional rework, mechanical embossing remains the dominant technology for adding variable data on blister packs. In view of the adverse effect on both overall equipment effectiveness (OEE) and patient safety, pharmaceutical companies are looking for solutions.
With its new variable data printer VDP 827, DOD inkjet technology – installed inline – is designed to make marking and coding more efficient and reliable. Thanks to its compact design, the VDP 827 can be easily integrated into blister lines. The VDP concept was developed in consultation with the leading blister machine manufacturers. Since it is based on the Hapa Webjet technology, it is an accepted standard and details around mechanical and electrical integration have already been defined together with all key suppliers.
"To achieve this level of standardization, we worked closely together with several manufacturers at the development stage," says Hapa sales director James MacKenzie. "Pharmaceutical companies thus attain printing processes that are optimally matched to the blister machines and benefit from standardized spare and wear parts that are available worldwide." Built for diverse integration scenarios, the printer is also available for retrofitting to convert existing blister lines to UV DOD printing.
Compared to traditional embossing, for example, there are benefits to variable data printing with UV DOD technology.
Sharp 360 dpi print, no matter the speed of the blister foil
Enhanced camera readability
Minimized waste
The VDP 827 can make full use of the web width of up to 288 mm and serialize or code any part of the blister foil. It also supports all the standard symbologies and barcodes. In addition, UV DOD printing can be read easily by people and vision systems alike. The automated workflow enables the digital transformation to be finally pushed in this field as well. Time-consuming and error-prone mechanical changeovers are a thing of the past. UV DOD printing also outperforms other alternative technologies. Unlike ablative lasers, for example, the VDP 827 does not generate any dust or dirt whatsoever; and there's no need for specially coated and therefore more expensive foils. No constraints apply in regards to format size or printing speed. The UV-curable DOD technology is a solvent-free technology. The UV cured ink is available immediately for the next inline process step and is designed to be both resilient and abrasion-proof. It can also be refilled on the fly without interrupting production – there is no need for changing of cartridges, involving machine downtime. "The VDP 827 offers a simple and affordable pathway to the rewards of probably the most advanced inline printing technology for this particular application," concludes James MacKenzie of Hapa. "It improves patient safety, reduces production complexity, cuts cost and increases OEE."
Companies in this article