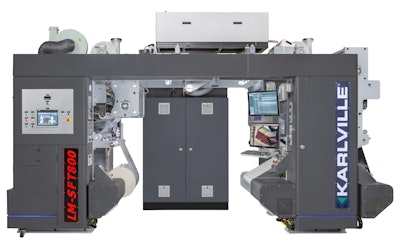 Karlville's COMBI Thermal + Solventless Laminator features include:
• Proven thermal lamination technology with adjustable wrap angle and precise tension control.
• Proven solventless adhesive technology with 5 roller coating system.
• Excellent Dosing via geared pump Bi-2 Mixer.
• Accurate Adhesive Coat Width via Sleeved Transfer Roller.
• Precise Coat Weight Measurement via Inline Infrared Sensor.
• Closed Loop Tension Control via Dancer.
• VPN Access for Service.
• Ideal for HP Indigo 6900 and HP Indigo 20000 Presses.
• Optional LASX Laser Window Cutting Turnkey Accessory.
Companies in this article