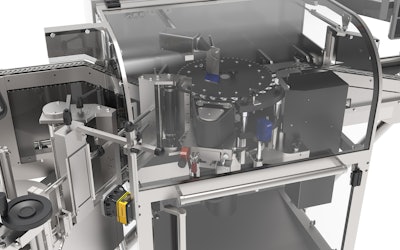 NJM can configure each Courser to label vials, syringes, bottles, ampules, cartridges, centrifuge tubes, auto-injectors and other small or unstable packages. It achieves speeds of up to 250 vials/min and 200 syringes/min. An option for orienting packages allows for specific label placement, such as for containers with a flange or graduation, at speeds up to 100 ppm.
Ideal for pharmaceutical manufacturers, contract packers, 503B pharmacies, biotech companies, and others running small batch sizes, machine maximizes production versatility and speeds changeover while saving floorspace.
"There's a growing need in our industry for highly versatile, low-volume packaging equipment. What makes Courser unique is its dual-purpose capability. This modular labeler can be built to handle both vials and syringes or dedicated to one, with the option to later modify the system in the field," said Omar Azam, Inside Sales Manager at NJM. "Courser can be designed with a manual infeed and discharge or integrated into a fully automated line to meet the needs of each customer. By enabling a wide variety of packages to be labeled on a single machine, Courser reduces floorspace requirements and the cost of investment."
Suitable for clear and opaque plastic, metallic and paper labels, Courser achieves a label placement accuracy of +/- 1/32 in. (1mm). It applies wraparound, pressure sensitive labels from 0.625 to 3.5 in. (16 to 89mm) high and 0.625 to 6.5 in. (16 to 165mm) long. It handles vials from 0.56 to 2 in. (14 to 50mm) in diameter and 0.75 to 3.75 in. (20 to 95mm) in height, and it handles syringes from 0.25 to 1.25 in. (7 to 32mm) in diameter and 2.19 to 5.37 in. (55 to 137mm) in length. Courser changes over to handle a new package type and/or size in 10 to 15 min with minimal adjustments and no tools required.
Courser can be installed in line or as a stand-alone system. When in line, it relies on conveyors with side transfers to handle vials and a powered track to handle syringes. For stand-alone operation, it can be configured with manual tray loading and discharge for vials and a non-powered track with guides for syringes. This servo-driven labeler offers continuous-motion handling with an option to operate using intermittent motion when orienting packages. As labels are applied, containers are held in place along their vertical side surfaces using trunnion rollers, which minimizes label skew. This multi-functional labeler offers a footprint that is only 120 in. (3m) long and 67 in. (1.7m) wide.
NJM can equip Courser with an optional thermal transfer or laser printer to print variable data, including serialized data, to pre-printed or blank labels before applying them. An optional print inspection system inspects the printed label on the web, while an optional label removal system ensures incorrectly printed labels are reconciled on a separate web and not applied to packages. An optional label placement inspection system identifies packages with missing labels and triggers a downstream reject device.
Courser is offered with Allen-Bradley or B&R servo drives, PLC and color touchscreen HMI with available 21 CFR Part 11 compliant audit trails and electronic signatures. When equipped with B&R controls, Courser's optional vision system can be integrated with the labeler's HMI.
Built with durable components, Courser features stainless steel and anodized aluminum construction and a GMP-compliant design. Its balcony-style platform allows easy access for changeovers, maintenance and cleaning. Clear Lexan guarding with interlocking doors helps ensure worker safety. A stainless steel, dust-proof electrical enclosure on the backside of the machine protects electronics.
Companies in this article