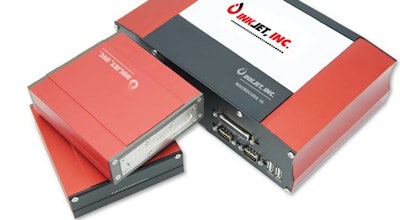 The MacroCode printing system suitable for use in a wide range of industrial printing applications in all types of environments and substrates.
InkJet, Inc's MacroCode printing system operates in temperatures of 5 degrees Celsius to 45 degrees Celsius with software that is available in many languages.
"InkJet, Inc.'s MacroCode small printhead delivers large, clear dots and is easy to install and operate. End users who purchase this system can expect reliable DOD coding. The robust, compact design and structure of the MacroCode printing system is built for environments with materials like lumber, concrete, insulation and large pallets that require visible codes from a distance," explained Omar Torres, Product Manager for InkJet, Inc."End users have the option of specifying a mode that uses fast-drying ink that can print on either porous or non-porous substrates, making it ideal for any printing application for which large, readable characters are needed."
Additional features and benefits
MacroCode is designed to install easily with minimal mounting. Each printhead has two lines for ink transfer: a single line for ink supply and an additional line for ink return, which enables the printhead to recycle ink and perform auto flushes and minimizes maintenance and down time.
The controller for the MacroCode system includes a Windows-based graphical user interface (GUI) to help users navigate and operate the system easily. The 7-in. color touch screen provides an interface that is adequately-sized while also being compact enough that it minimizes the footprint it occupies on the printing and production lines.
In addition, the MacroCode system has three nozzle sizes (7, 16, and 32). This system uses both water-based and solvent-based inks, which are available from InkJet, Inc.
Companies in this article