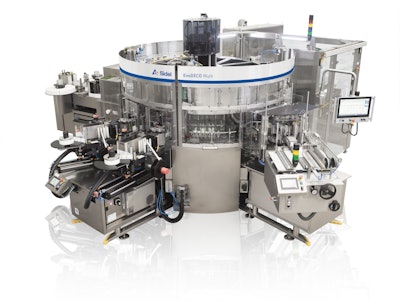 Switching between various labelling modules is quick and easy, thanks to Plug & Play connections, offering producers the freedom of labelling choice and total flexibility.
As part of the Sidel Matrix™ platform, the EvoDECO Multi has been designed for modularity, flexibility and performance. It allows for up to 36 layout configurations and a 30% faster changeover time. It also offers 98% efficiency with non-stop labelling as well as lower TCO through reduced electrical consumption, maintenance time and optimised glue management. Attention has also been paid to ergonomics and operator safety: Easy operations, cleaning and maintenance are facilitated by its open, frameless structure. This, together with the re-design of all the single modules, results in a significantly enhanced machine uptime.
New brushless motors integrated into the carousel and the labelling stations remove the need for lubrication and achieve great energy savings. The new EvoDECO Multi labeller was developed to handle all labels, even ultra-thin, with utmost precision, ensuring top label quality application and performance at a very high level.
The EvoDECO labelling technologies can also be installed as dedicated applications, answering manufacturers' needs for maximum performance.
Companies in this article