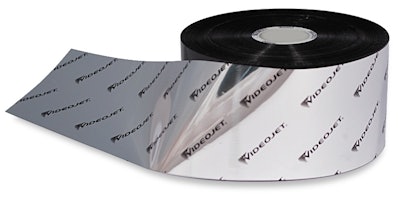 The ribbon features reliable adhesion and contrast when printing on rough surfaces such as Tyvek®, uncoated labels, paper tickets, Kraft paper, and hang tags.
The new Rough Texture ribbon provides sharp print quality at high speeds, along with resistance to smudging and abrasion for code readability. It is formulated for superior light resistance, helping it to withstand environments where high light levels can fade prints produced with other ribbons. Like all Videojet TTO ribbons, this Rough Texture ribbon features advanced backcoat technology to help ensure excellent print quality and extended printhead life. This Videojet ribbon offering provides superior performance in many applications such as medical pouches and labels.
Videojet Rough Texture ribbon can be used to print logos, text, real-time dates and codes, including 2D Data Matrix and GS1-128 bar codes, directly on packaging materials.
Companies in this article