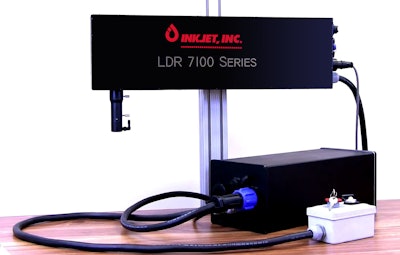 The LDR 7100 is the latest generation of an all-digital laser coder that provides reliable, Digital Resolution codes at speeds that leave scribing lasers behind. End-users found that earlier models were more expensive and more complicated to operate.

"Our new LDR 7100 system makes laser technology easy and attainable for all production environments as it is true IP65. The LDR 7100 is significantly easier to install than scribe lasers and requires far less attention for operations and maintenance than CIJ," commented Bill Allen, hardware portfolio director with InkJet, Inc.
Advantages to End Users
The LDR 7100's design with point-and-shoot installation and operation make it easy to operate and install. Plug-and-play laser modules make switching out tubes fast and easy. Users can also intuitively enter messages and control the system via an app on their computer, tablet or smartphone.
The LDR 7100's no galvos technology results in a stable, modular design. The absence of moving parts increases uptime and significantly decreases repair times (for example, users can change a tube in 30 sec). In addition, controlling the system via computer, tablet, or smartphone app eliminates the control cabinet, thus aiding in the low profile and machine footprint.
Another advantage is the LDR 7100's low cost of ownership.It is designed for ease of maintenance, which leads to cost-effective operation. The system features multiple simple cooling options, including low cost and efficient closed-loop cooling for high duty-cycle applications which allows for a reliable and sturdy IP65 cabinet design.
Companies in this article