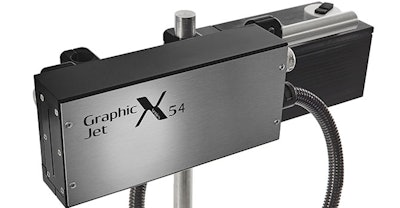 Manufactured in The Netherlands, Kortho's Hi-Res Inkjet printers are known for their durable hardware and seamless automation. With the addition of the Kortho GraphicJet X-Series to its product line, InkJet, Inc. now offers versatility and qualityfor printing on porousand non-porous surfaces, includingcardboard and paper packaging such as boxes, trays, bags, plastics, metals and other materials, like wood, polystyrene, and evenstone and concrete products.
These GraphiJet X-Series printers deliver several technological advantages, including a 100% Windows-based operating system; aWindows network driver for Enterprise Resource Planning (ERP) integration; ability to print directly from a database; and Unicode font support that makes all keyboards, menus and auto codes available in any language.
"Users are going to be thrilled with the low cost per print, remote diagnostics for service over the Internet and ability to adapt to their environment and network," commentedMeindert de Groot Jr., director of coding and marking with Kortho.
Companies in this article