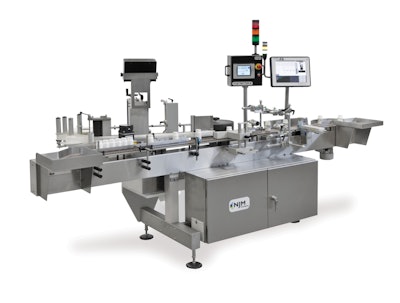 This integrated system achieves in-line serialization and facilitates accurate aggregation at secondary packaging on automated lines to maximize manufacturing efficiencies. It enables pharmaceutical manufacturers and contract packers to easily and affordably comply with traceability requirements.

NJM's Trotter W labeler is dedicated to the wraparound labeling of round containers at speeds of up to 150 bpm. It can be equipped with a thermal transfer and/or laser printer to print serialized 2D barcodes and alphanumeric codes, lot numbers, expiration dates and more onto preprinted pressure sensitive labels during the labeling operation. OPTEL's vision system inspects the variable data on the web and the labels on the bottles, and an automated reject device removes any abnormalities from the production line. For customers that need higher speeds and/or to label other bottle shapes, NJM offers other labelers for integration with OPTEL's BottleTracker.

After labeling, the BottleTracker marks the bottom of each bottle with a unique identifier in black or UV ink using a continuous ink-jet printer. OPTEL's vision system verifies the components and associates each unique identifier to the serialized code. This approach facilitates precise aggregation at secondary packaging by enabling that downstream vision system to capture one image of the entire group of bottles. A group of bottles could comprise a bundle at the bundler or a layer at the case packer, with the unique identifier of each bottle in that group visible.

Compared to traditional "first in, first out" aggregation systems, which track each bottle coming into the bundler or case packer, this NJM/OPTEL system reduces errors to improve compliance and maximize production efficiencies. It helps product manufacturers and contract packers ensure consumer safety and protect brand integrity by authenticating product pedigrees while limiting the risk of product recalls, litigation and settlements.

The Trotter W and BottleTracker can be equipped to handle various inspections, including the presence and placement of labels, topserts and sideserts. The system seamlessly connects with the OPTEL systems whose job it is to verify, report and manage the serial numbers, including those associated with bottles that are rejected, reworked and reintroduced.

Upstream of the BottleTracker's inkjet printer, cameras inspect bottle bottoms to verify that they have either no unique identifier or a valid unique identifier, which enables operators to reintroduce previously marked bottles that were rejected and reworked. Bottles with no unique identifier are marked, bottles with a valid unique identifier pass without being marked again, and improperly marked bottles are automatically ejected from the line.


Companies in this article