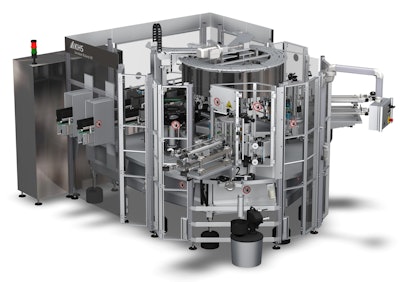 The Innoket Roland 40 can be fitted with various labeling stations and is characterized by its ease of use and the accustomed high standard of quality offered by KHS. During development particular attention was paid to simple operation and a high degree of economy. The table machine is not only of interest to craft breweries but also to companies in the food and non-food industries, such as manufacturers of canned food, pet food, or shampoo.
In its standard version the Innoket Roland 40 comes with two cold glue stations. This allows shoulder and neck labels to be applied at two levels by the first station, for instance, with the second station affixing back labels to the bottles. Alternatively, self-adhesive stations, a combination of cold glue and self-adhesive technology, and hot melt labeling processes can be used.
Inside the Innoket Roland 40 are countless quality-determining components, including the carousel, infeed and discharge stars, folding doors, installation and format parts and guides and on the cold glue station the gripper cylinder and label magazine. The servo feed screw permits gentle bottle stops.
The new KHS development also provides many different opportunities for extension, enabling individual labeling tasks to be realized. It is possible, for example, to equip the Innoket Roland 40 with the KHS VarioDrive electronic bottle plate control system.
Companies in this article