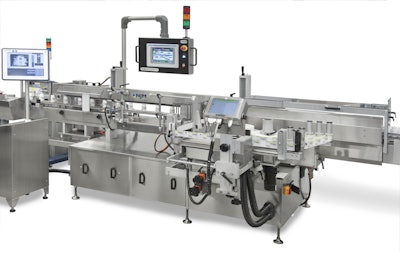 AUTOCOLT IV is a high speed servo-driven in-line labeler that competes in the market with complex rotary labelers in speed and versatility to offer much faster and easier changeovers with fewer change parts, reduced maintenance, a smaller footprint and a lower capital cost. NJM equips the AUTOCOLT IV with a wide variety of standardized modules and options to meet the needs of each application and customizes the labeler to each customer's requirements.

Depending on the modules and options selected, AUTOCOLT IV can accurately label square, rectangular and round bottles from 1 to 14 in. (25 to 355 mm) in height and from 1 to 5 in. (25 to 127 mm) in diameter. It can apply a variety of label configurations including wraparound, multi-panel, front-and-back and outserts at speeds of up to 300 cpm. It can be changed over to handle a new container size and new label size in less than 20 minutes with no tools required. It can be equipped for e-pedigree serialization, RFID tagging and other track and trace initiatives, making it ideal for pharmaceuticals, nutraceuticals, biotech and veterinary products as well as foods, beverages, cosmetics, personal care products and household chemicals.

The new options include an Oscillating Pressure Station for multi-panel labeling, a Vacuum Free Loop for continuous printing of variable data, a soft reject system for vials, color coded change parts and a linear feeder for outsert magazines.

The new Oscillating Pressure Station (OPS) increases the speed of applying multi-panel labels to square or rectangular bottles by wiping down the leading and trailing edges of labels on three or four bottles simultaneously. The system combines servo-driven rotary motion, which is synchronized with container's linear speed, and a pneumatic wipe-down mechanism to handle multiple bottles per rotation as the bottles are held in place by an overhead belt. Compared to traditional stationary wipers, which are limited to speeds of 120 cpm, NJM's new OPS achieves speeds of up to 200 cpm.

For high speed applications that require the printing of variable data with a thermal transfer or laser printer, NJM's new Vacuum Free Loop improves print quality and reduces label web breakage. This servo-driven system pushes the feed roll to reduce web tension during high speed intermittent-motion labeling by driving the web to achieve continuous-motion printing at speeds over 200 cpm.

NJM's soft reject system is a new option for AUTOCOLT IV labelers that feature the optional trunnion system for labeling vials. The servo-driven trunnion rollers achieve positive container handling to maximize speeds and label placement accuracy, while the new servo-driven starwheel that follows the trunnion system adds positive container handling through a vision inspection station and onto either an 'accept' or 'reject' conveyor. Ideal for products that require the gentlest handling and applications that demand fail-safe tracking, the soft reject system handles up to 450 cpm.

All AUTOCOLT IV change parts offer quick assembly and removal with no tools required. Color coded change parts are available as an option.
Companies in this article