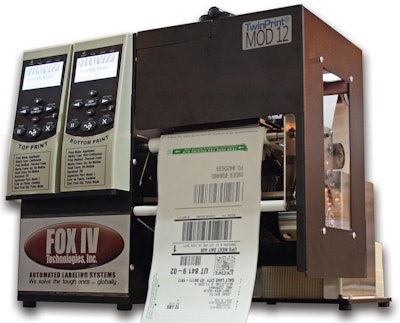 Rather than the standard 6 in. wide x 8 in. long dual sided label with a 4 in. x 6 in. packing list print area, the MOD 12 is able to print onto 6 in. x 12 in. labels and offer a 4 in. x 10 in. packing list area. This extended length makes it easier for companies that require additional information on their shipping labels or packing slips.
Like its sister unit, the MOD 6, the TwinPrint MOD 12 Desktop improves shipping speed and efficiency by eliminating the need for separate packing slips and their associated costs. By printing the shipping information on the top side of the label and the packing list information on the underside, separate packing slips and envelopes are eliminated along with the time and labor costs to match, fold, stuff, and adhere the packing list to the shipping container.
Additionally, because the majority of the label liner is repurposed as the packing slip, up to 60% of label liner waste is removed from the waste stream. In addition to shipping and packing slip information, TwinPrint labels can also be used for promotions, coupons and return information.
Companies in this article