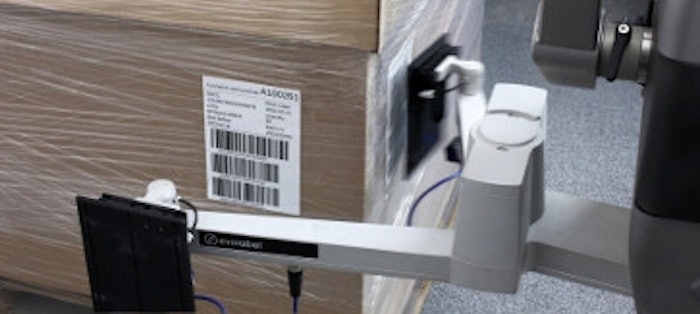 Enhanced safety: Trap point risks between the applicator arm and the printer or pallet are eliminated with the Evolabel Tactile Applicator. No safety guarding required. There is no crushing hazard between the FlexWipe system and the pallet thanks to the Pivotable Machine Mount. If a person gets between the pallet and the system, it simply rotates to let the person through.
Maximized throughput: With its light and durable Monocoque Arm, the system operates to print, apply and check scan five dual-sided pallets per minute. Label roll changes take only 20 sec. thanks to the One Roller Solution.
Ensured traceability: Pallets are often uneven packed or contain products that create an uneven surface. The Evolabel FlexWipe pallet labeling system labels safely to any surface with its Touch and Flex Apply solution. The optimal reading position allows the camera to check scan all the barcodes printed on the label.
Released flexibility: The patent pending Free Motion Apply allows one standard FlexWipe system to label the front, side and the rear face of the pallet. If check scan is not required, it can label all three sides without stopping the pallet at all.
Simplified integration: The modern Linux based platform simplifies integration to customers or system integrators' software systems. The open and defined Evolabel API is used for full control of the system, the XML support is an easy way to transfer label data and select label layout. Additionally, built-in digital I/Os are configurable from the standard Evolabel onboard software.
Companies in this article