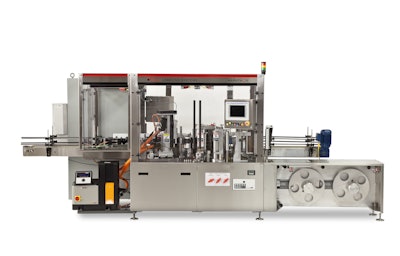 As the world's only fully automatic extrusion-based, recipe-driven hot melt glue applicator for roll-fed labeling, the GES 2.0 minimizes downtime, requires no operator set-up or adjustment during production and improves labeling quality.

Now commercially available as part of the Marathon series of labelers, the GES 2.0 is the first high-performance glue application alternative to traditional glue wheel systems.The B & H GES 2.0 applies a precisely extruded film of hot melt adhesive to preprogramed locations on a label through a vertical pattern nozzle. Using proprietary algorithms, the fully automatic system uses a controlled combination of pressure and temperature to accurately and consistently extrude and apply hot melt adhesive to labels regardless of production speed.

GES 2.0-applied glue patterns are void-free, which improves the bonding performance of any adhesive. The system offers precise, consistent control over the amount of adhesive applied to a label, the position of the adhesive pattern on a label, and the size of the leading and trailing edge glue patterns. It eliminates the need for labeler operators to set-up and adjust the system during operation. This reduces downtime related to glue application and reduces the need to train operators to troubleshoot and then adjust the glue application system.
Companies in this article