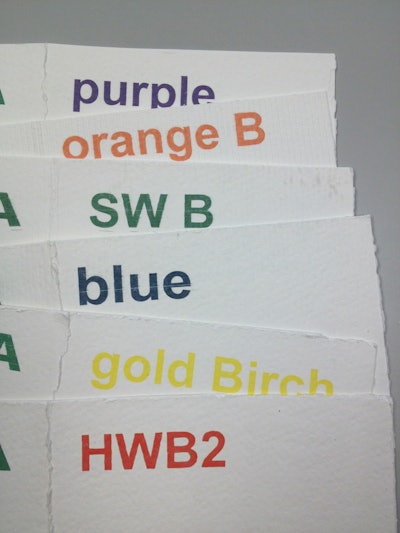 The six colors – M515-K Red, M516-K Orange, M517-K Green, M518-K Blue, M519-K Purple, and M520-K Yellow – are designed to meet a wide range of unique customer applications.
By using visually distinctive, compatible color formulations, customers can enhance their 2300 printer function and bring increased brand differentiation and code value to their printing applications.
The ink colors have pigmented formulations that deliver increased UV light fastness, water resistance, and fade-resistance over dye-based formulations, increasing code assurance and providing code durability. They are also chemically compatible with each other, simplifying ink color changeover.
Similar to Videojet's M512-K black ink, the six new ink colors are suitable for printing on a range of porous papers and kraft board materials – including those with high recycle content. The inks can provide visually attractive brand information and product identification on paper and pulp-based raw materials such as wood and lumber. Color inks can also be used to print visual cues to identify particular sub-brands, distinguish between different grades of product like lumber, or to highlight product compliance with specific building codes or regulations.
The inks adhere to plain and coated paper packaging, bundles of pulp-based product and other packaging. Suitable for brand identification on secondary cartons, these inks are also helpful for differentiating outer wrappings of products like paper stock. Spot colors can be used to print in-plant visual management codes and indicators for quality control or inventory management.
Companies in this article