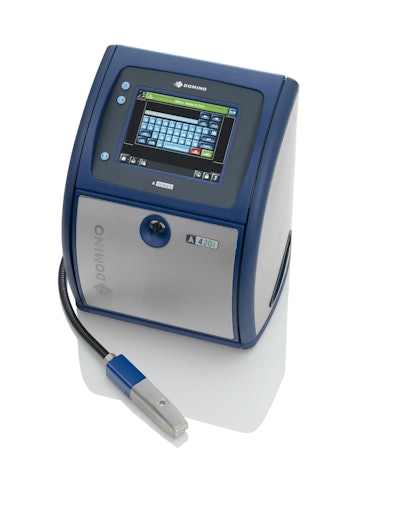 Utilizing the company's unique i-Tech features, the A420i delivers low makeup consumption. In addition, CleanFill cartridges can be easily changed while the printer is in operation, and the larger-volume makeup cartridges provide extended runtime between changes, while its unique Qube ink system containing ink and ink filters can be changed in less than 10 minutes. 
Further adding to the flexibility of the A420i print head are two variants:  the Duo--a special twin jet for high-speed high-volume applications; and the Pinpoint for precision coding--an extended 6 metre conduit for easier integration, high performance, and the 2BK024 fast drying black ink for low energy plastics. 
Where modern production lines require the delivery of multiple codes at very high speeds, the A420i Duo print head offers the capability to produce multiple lines of text at high production speeds.  Its special twin jet print head and new compact gunbody are designed to meet the requirements of high output production environments such as canning and beverage applications. 
The A420i Pinpoint delivers micro-print as small as 0.8mm in height onto very small components making it suitable for applications where codes must be both discreet and of high quality, such as the electronics, pharmaceutical, automotive parts, and cosmetics and personal care sectors.
Adding further to the capabilities of the A420i is new fast-drying, high-performance 2BK024 black ink.  Developed for use on a wide range of low surface energy plastics, the composition of the 2BK024 ink provides high-adhesion properties onto polypropylene, thermo plastic olefins (including BOPP, OPP), PET, polyethylenes (including HDPE and LDPE), as well as an increasingly varied range of multi-layer flexible packaging materials.
The A420i model can also offer a 90-degree angled print head and a longer 6 metre flexible conduit to enable integration of the print heads into the most difficult and limited spaces within the production line. 
The extended application range of the A420i optimize performance in the most demanding of environments.  These include washable and moisture-resistant inks for the beverage sector, thermochromic "color changing" inks for the food canning industry, inks with high adhesion and anti-abrasion properties for PP and PE surfaces, as well as fully-compliant specialist inks for the food and healthcare industries.
Companies in this article