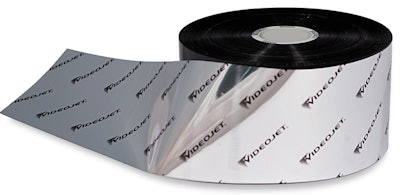 The longer length reduces the number of ribbon changes required, leading to more prints per roll and significantly longer runtimes.
The longer thermal transfer ribbon is available in a 1200m length for new DataFlex Plus 53mm printers and 700m for new DataFlex Plus 107mm printers. Already available on new printer models, enhanced software allows use of the longer ribbon and provides other customer benefits. Upgrades are available from Videojet for currently installed DataFlex Plus printers to run the longer ribbon and take advantage of the new features.
Customer benefits include more uptime: with longer length ribbons, a customer printing a 10mm high image at 100ppm will benefit from 19,000 more prints and 3.2 hours of additional runtime per roll of ribbon.  Enhanced code assurance is provided with Intelligent Date Rules found in the system software--supervisors can avoid specific dates (e.g., holidays) from being printed. A USB connection makes it easy to use scanners for increased code accuracy.  Improved environmental sustainability is achieved with a thinner construction compared to Videojet's standard ribbon.  The new longer-length ribbon creates less ribbon waste. Additionally, both customers and the environment will benefit from fewer ribbon shipments that will result in less packaging waste and potentially reduce CO2 emissions.
Companies in this article