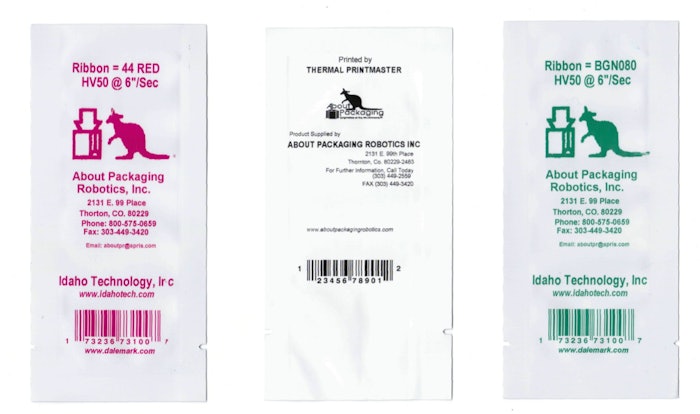 The 
300 dpi resolution delivers needle-sharp logos, text, and bar codes using the newly-developed Near-Edge Type Print Head with integrated temperature control to give the appearance of preprinted pouches.
By inserting the pouches and pressing the "ONLINE" key, the lift-tray rises automatically and the stock is printed and deposited in a collection tray.  The width and length of the collection tray can be adjusted to conform to the size of the pouching stock.
Seventeen standard fonts and two vector fonts allow a wide range of print design. All standard bar codes are integrated in the system.

The Thermal Printmaster has a highly-effective and economical ribbon-saver. The 656-yard ribbon reduces replacement time. The ribbon can be purchased in varying widths, eliminating waste.
This system operates with Flash-Proms via a parallel interface. Data can be fed in at any time eliminating the need to change Eproms.
The Thermal Printmaster can direct print to media which is 1-1/2- to 10-in. wide, and provides a maximum of 8-1/2-in. wide print area.
Features a rugged steel printing platform, high resolution print capability, quality copy registration, and a stepper motor driven infeed to insure positive automatic feed of a wide range of varnished, polished, or porous flat (no folds, perforations or seams) products. 


Companies in this article