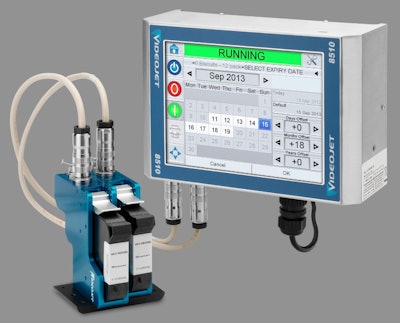 The 8510 ink jet printer's incorporates a menu-driven touchscreen interface allows operators to access all common operations in five or fewer touches. This greatly simplifies operator training and helps aid packaging line productivity.
With an intuitive 8.4-in. color touchscreen interface, the 8510 allows operators to quickly and easily ascertain the status of the printer, verify the print job currently loaded and check cartridge ink levels and other production line data--all from the home screen. Features of the 8510 touchscreen mimic consumer computing devices so operators benefit from the graphical user interface, which includes easy-to-learn icon-based controls. In addition, maintenance of the 8510 is as easy as wiping the printhead when it becomes dirty and replacing the empty ink cartridge when it runs out. Cartridge changes take less than one minute so packaging operations avoid costly downtime, remaining operational and more productive.
The 8510 incorporates key elements of Videojet¹s CLARiSUITE code assurance software, a scalable software solution that enables packaging supervisors to increase productivity and reduce human error in message set-up. The printer's critical task of message template creation is moved away from the production floor. Packaging supervisors can embed rules-based guidelines into specific message fields, thus helping operators choose the correct data when setting up a packaging run and editing the code to be printed.
The 8510¹s compact size controller and multiple low profile printhead options allows for quick integration on packaging production lines--even in the most space-constrained locations. In addition, by having the ability to drive up to four printheads, operators can easily print tall messages or add printing content in a cost effective manner.
Companies in this article