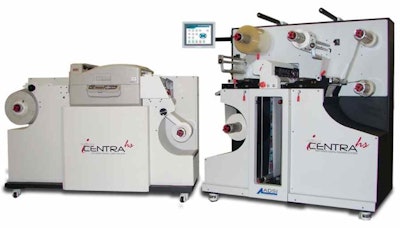 The digital label system combines the new iTech Centra HS Digital Label Printer with the iTech Centra HS Digital Label Finisher, introduced in 2011 to provide a complete, digital, roll-to-roll solution with low, on-going operational expenses.
The new component of the system, the iTech CENTRA HS Digital Label Printer, is an LED toner printer that images consumer-quality labels with brilliant, durable, consistent color at 1200 dpi X 600 dpi, at speeds up to 30 ft./min. (9.1 meters per minute). Provides a maximum width of 12.9 in. (327 mm) and maximum roll diameter of 14 in. (355 mm), and a wide degree of substrate flexibility.
Included with the printer is the east-to-use Wasatch SoftRIP software that manages all print job parameters. The intuitive layout features enable users to maximize substrate usage to minimize waste. A full suite of color control capabilities, ICC color management, tone curve reproduction, and unique and powerful spot color replacement features enhances print quality.  The RIP also includes a consumable cost estimator. A variable data option is available, enabling sequential numbering and bar codes along with graphic element capabilities.
The other component, the iTech CENTRA HS Digital Label Finisher, is a high-speed roll-to-roll digital finishing system that allows users to laminate, die-less cut, strip the waste matrix, and slit custom labels in one production pass. It can die cut any custom shape on demand right from Adobe Illustrator or Corel Draw, using the same vector file that would normally be sent out for die manufacture. It is sized to accommodate most label convertors' needs. The system can convert printed materials from any digital or analog print platform, including inkjet and thermal printers or a conventional flexo press in maximum roll diameter of 14 in. (355 mm) and width up to 14 in. (355 mm).
Print to cut registration is accomplished via the SMARTMark Optical Registration System. Multiple registration marks can be scanned to automatically adjust the cut file, compensating for any skew or scale issues that may have been caused by the output device or the material. The computer-driven cutting technology is capable of cutting multiple depths within the same cut file allowing for perforations or multi-layer applications. The finisher also has a new touch screen interface that makes it easy to set up and operate.
Companies in this article