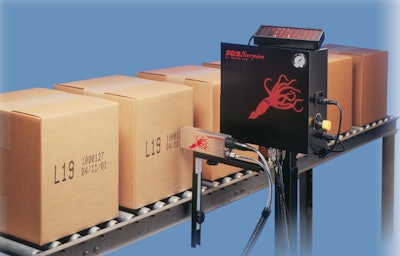 Prints with two SQ/2 Scorpion single line printheads, or one Series 1600 printhead for bold, full-character size and split-line capability from a single printhead.  Designed for users who need separate printheads to print messages on two sides of a box, or a single printhead to print split-line small characters and/or bold characters on one side of a box.

The SQ/2 Scorpion, which also includes a user-friendly input device and a system controller, utilizes the company's patented micro-channeling technology to eliminate the need for a costly array of fluid valves.  Plunger technology distributes ink through a series of channels, keeping production and maintenance costs to a minimum.

Customers also choose from five different print sizes: 3/8-, ½-, ¾- 1- or 1¾-in. character height.  Each printhead has the capability of printing at 100% or 70% character height, offering 12 print sizes ranging from ¼- to 1¾-in. in height.  The 1- and 1 ¾-in. (1600 Series) printheads even offer split-line capability and the option of printing full-size characters with the same printhead. The SQ/2 is upgraded with software features with increased memory locations for up to 128 messages. Comes standard with a shaft encoder input for packagers using a variable speed conveyer. Features a built-in central air gauge to view regulated air pressure within the system for fine-tuned print quality. Utilizes a handheld keypad pre-programmed to walk the user through the setup of their message. For integration with PCs, scales, scanners or other systems, two standard RS-232 communications ports and an interface software package are available.  Printhead mounting hardware includes quick disconnect fittings for simple set-up and take-down.


 
Companies in this article