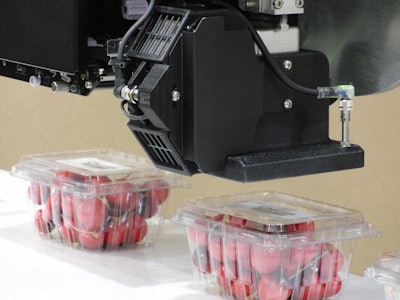 The E-Tamp Blow labeler is designed for labeling delicate or fragile substrates, such as plastic clamshells, without making any contact from the tamp pad.  The tamp pad is extended 1/8- 1/4-in. from the product to be labeled, and then "blows" the label onto it.  Can print/apply the labels for top or side application.  In addition, the Tamp Blow can also provide label application to products with slight recesses or curvatures.
A high-velocity turbo fan secures the label during application to avoid label skew on products.  Uses a double action airflow valve design to almost instantly change vacuum draw into an air blast coming out of the very same porting holes. A brushless DC Servo motor drives the tamp cylinder.
The label size range is 1¼-in. x 1¼-in. to 4-in. x 6-in., and labels are applied at 55 PPM.  3 pivoting tamp pad sizes:  4-in. x 2-in., 4-in. x 4-in., and 4-in. x 6-in.  The labeler saves energy and is easy to move from one production line to another.  Choose Sato, Zebra, or Datamax print engine.  Upgradable.  Harsh environment closures available.
Companies in this article
Videos from Diagraph, An ITW Company