B&H Labeling Systems: Roll-fed labeler
The new Marathon XL labeler from B&H Labeling Systems is equipped with SMARTdrive, the first all-electronic drive train, company says. A servomotor-driven feedscrew and container stabilization feature allows the machine to handle containers from 8 oz to 3 L at speeds to 650/min.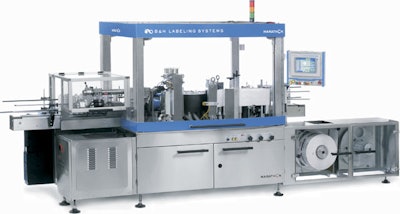 Advanced in-line design simplifies operations, maintenance, and changeovers, using fewer moving parts and digital automation.
Companies in this article
Fill out the form below to request more information about
B&H Labeling Systems: Roll-fed labeler
How to ensure your best conveying project yet
Read our latest Playbook to discover how to ensure efficient product handling, best practices for specifying conveyor and container handling equipment, and top tips for a successful pack line startup.
Download Now