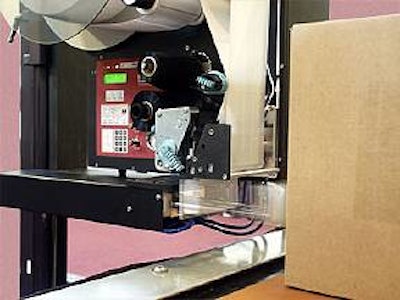 All critical components including print engine assembly and label and ribbon guides are mounted onto a machined metal common for stable, balanced rugged 24/7 operation.
Silk-screened media paths for easy media changes and error-free threading.
Fully integrated control package with quick-access cover
"soft touch" media control for roll or fan-fold label supplies
3 in ID by 12 inch OD maximum label roll size
360o rotatable user interface: centralized controls, simple keypad and backlit LCD
Dynamic Tension Control rewind system eliminates web breakage
Swing-away cylinder assembly that allows easy access to printhead
Standard Interfaces: RS232, IEEE 1284 Optional: Ethernet (PrintNet), Dual Ethernet/Wireless (802.11b) with separate IP addresses
Options include: environmental enclosures, Tamp or Touch-bloTM application
Expandable and upgradeable.
20 - 40 labels per minute and precise label placement within 1/16 inch.
"No Dead Tags" system ensuring that only "live" or "good" labels are applied to product and no "dead" or "quiet" labels are applied. Dead labels are overstriked and remain on the label. The SLPA 7000e can be preset to stop after 1 to 10 consecutive failures. Tracks statistics on tags written to and number of failed tags.
Supports EPC Class 0, 0+ and Class 1 Tags at 902-928 MHz (upgradeable)
Supports multiple label sizes from a minimum of 1 inch in width.
Sizes include 3 inch X 3 inch, 4 inch X 2 inch up to 4 inch X 8 inch.
Migration GTIN carriers ITF-14 and UCC/EAN-128, EPC data within Code 39, UPC-A, EAN-8, EAN-13. (some restrictions may apply)
Supported Bar code Types include: Code 39, Code 128 (A,B,C), Codabar, Interleaved 2 of 5, FIM UPC-A, UPC-E, UPC-EO, EAN 8, EAN 13, Code 93, Postnet, Postbar UCC/EAN 128, PDF 417, UPS Maxicode, Royal Mail, Datamatrix.
Operational modes include Write/Verify/Print/Apply.
Printronix printhead assembly provides
Direct thermal or thermal transfer print methods
203 dpi or 300 dpi print resolution
maximum print length of 10 inches
maximum print width of 4.1 inches
maximum print speed of 10 ips at 203 dpi or 8 ips at 300 dpi
Companies in this article