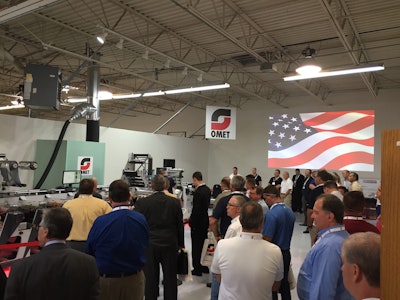 OMET Americas, Inc. recently held an open house to present the new Demo Center, where clients saw OMET's iFLEX label press in action. With more than 100 people in attendance, including clients, partners and industry journalists, the event was the first presentation of the iFLEX label printing press in the U.S. OMET's staff performed several printing demonstrations on the iFLEX where the participants were involved to experience how easy and quick it is to set the register and print with this machine.
The iFLEX will also be shown at Labelexpo Americas 2016 from Sept. 13 to 15 at the Rosemont Theatre in Rosemont, Ill.
The iFLEX also received a nomination for the Label Global Awards 2016, in the category "Award for Innovation," introduced on the world market in 2015 for companies with less than 300 employees. The award ceremony will take place during the Labelexpo Americas event.
During Labelexpo Americas' three-day event, an XFLEX X6 will be displayed alongside the iFLEX. OMET's X6 is the best-selling machine in the narrow-web packaging printing industry and it is considered a benchmark in terms of hi-tech innovation and pure quality performance.
OMET Americas, Inc. opened a new facility in Elk Grove Village, Ill. in November 2015, proving the company's intent to strengthen its presence across the U.S., thus providing its clients an ever closer, attentive, and timely pre- and post-sales service experience.
Companies in this article