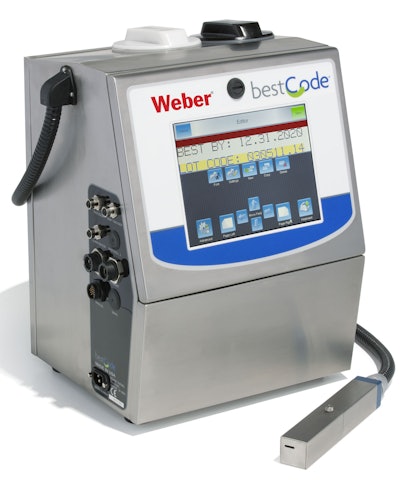 Weber Packaging Solutions announces new distribution of BestCode's selection of continuous ink jet printers to complement their range of print and labeling system products. The BestCode systems allow Weber a broader reach into the North America marking and coding sector.
The BestCode Series 8 industrial marking and coding systems print best by, lot code, sell by, expiration codes, and other identifying marks and codes on industrial and consumer goods to ensure product traceability. The systems print high speed, non-contact, instantly dry marks and codes on a wide range of substrates, including plastic, glass, paper, and more.
"Partnering with Weber Packaging strengthens our position in our home market, both BestCode and Weber are US based organizations focused on manufacturing U.S. products in the U.S.," says Richard Fox, BestCode's President.
"We are very excited to add BestCode's product range, extending Weber's reach into the North America Marking and Coding market," said Mike Brown, Weber Packaging's Executive Vice President, North America.
BestCode offers a complete range of marking and coding solutions (50+ model configurations), from entry level affordable options through mid-range capabilities and high-end, specialized engineered solutions focusing on the highest speed, most sophisticated applications. Specialized solution systems include High Speed and Super High Speed options for print applications in excess of 1700 feet per minute (8.6 meters per second) for the highest speed bottling/canning and wire/cable applications.
Print capabilities include white pigment/opaque inks for dark-colored substrates, food grade options for direct to food printing, micro printing for high-resolution and micro/small-character applications. A broad range of inks is available to meet the demands of any industrial printing application.
Companies in this article