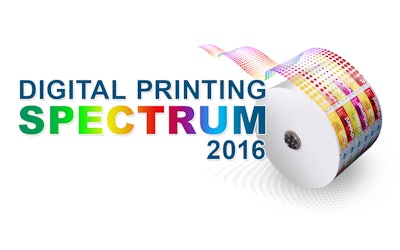 Domino will be hosting its first Open House, Digital Printing Spectrum 2016, at their newly expanded demonstration and training facility at Domino North American headquarters in Gurnee, IL on May 4 and 5.
Digital Printing Spectrum 2016 is where the widest range of industry experts will converge to discuss digital printing, finishing, and substrates. Everything you could ever want to know to help your business succeed.
This Open House is a one-day event, duplicated over two days so attendees can choose which day they prefer to attend—either Wednesday May 4th or Thursday May 5th. Registration is now open.
The event will focus on the latest trends and technology in digital printing and will include educational presentations from industry leaders, Q&A panel discussions, innovative equipment demonstrations, facility tour, and table-top exhibits from leading suppliers in the industry. With more than two dozen partner suppliers already onboard and up to 150 attendees expected, this is a highly-anticipated educational and networking event.
Presenters include Kevin Karstedt (Karstedt Partners), Scott Fisher (Smyth Companies), Kevin Hayes (Outlook Group), Tony Heinl (Repacorp), and Dan Muenzer (Constantia and Chairman of TLMI). Anticipated topics include The Changing Face of Label Printing; Toner vs. Inkjet; Flexo vs. Digital; Getting More Value out of Flexo by Integrating Digital; and the Future Direction of Digital Printing.
Three Q&A Panel Discussions include Finishing providers, Substrate providers, and Label Printer/Converters. Finishing providers include Jim Kehring (ABG), Jay Stromberg (Delta ModTech), Mete Gonder (Gonderflex), and Simon Gross (CEI). Substrate providers include Diane Ewanko (Avery Dennison), Ron Ducharme (Flexcon), Joel Ulrich (Spinnaker), and David Gustafson (UPM). Label printers include Scott Fisher (Smyth Companies), Kevin Hayes (Outlook Group), Tony Heinl (Repacorp), Lori Campbell (The Label Printers), Mark Turk (International Label & Printing), Dave Ferguson & Sharon Zampogna (McCourt Label). Moderators of the Q&A Panel Discussions are Steve Katz (Label & Narrow Web), Dan Muenzer (Constantia), and Jay Kaible (FTA).
Table-top exhibits include companies representing the full spectrum of the label printing industry such as cameras, software, die makers, UV curing, finishing, substrates, material handling, cold foil, associations, universities, and the media/press. Already over two dozen suppliers are signed up to exhibit, with more suppliers still being scheduled.
Innovative equipment demonstrations include Domino N610i 7-color digital UV inkjet label press and Domino K600i digital UV ink jet printer. These well show applications to label printers either using flexo and considering integrating digital, or for current users of digital printing looking to take their business to the next level.
For more information or to register for the "Digital Printing Spectrum 2016" open house, please contact Bill Myers at bill.myers@domino-na.com or phone 847-596-4801.
Companies in this article