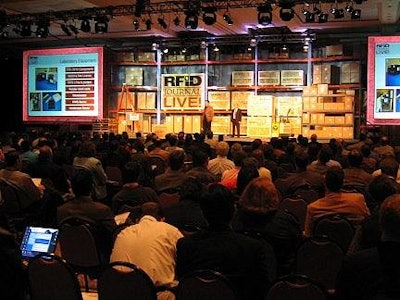 This year's RFID Journal Live! conference, the third iteration of this ever-growing gathering organized by RFID Journal and Mosaic Media Partners, was abuzz with developments of interest to packaged goods companies.
Held in Chicago, the main stage setting of a simulated warehouse with crates and racks underscored the conference's bent toward realities and results, not hype and promise. And that's what was heard from RFID users like the Department of Defense, Wal-Mart, Tesco, Kimberly-Clark, Tyson Foods, and Best Buy, though their discussions were accompanied by varying amounts of expectations, too.
Although some of the information and intelligence heard echoed that of last month's RFID World conference, there were plenty of fresh depths to be plumbed.
Here are some highlights, some of which RFID Antenna will expand upon next month:
P&G's $100ꯠ RFID investment in Spain had a one-year payback. Lesson learned: You can find return-on-investment in an RFID solution for a specific application.
"Readers and tags will get better," said Alan Estevez, assistant deputy under secretary for supply chain integration of the United States Department of Defense. "While there may be a little spike with Gen 2 debuting, pricing [for RFID technology] is going to come down." The DoD's RFID program found its read success rate is 96% and that the hardware was operational 100% of the time.
Tesco's chief technology officer John Clarke said "RFID will disrupt your business, but that's the whole point of it." Tesco, United Kingdom's largest retailer, has done item-level trials and plans to roll out with case-level RFID—or what he calls "radio bar codes because that's what it is"—in 2006.
EPCglobal president Michael Meranda calls 2005 "the year of the network."
In meeting Wal-Mart's mandate, Tyson Foods chief technology officer Gary Cooper admitted it would be at least late 2006 before they have return-on-investment in RFID for their low-margin meat products. Tyson, which serializes each beef pack it produces, RFID tags its meat packs "at the last possible moment," Cooper says.
Electronics retailer Best Buy is now at pilot implementation for RFID. Results from its RFID demo lab have been "phenomenal," says Best Buy EPC/RFID director Paul Freeman. "We expect to have RFID on cases and pallets at all our stores by May 2007." Freeman also pointed out that 70% of its products comprise a single product in one box, or item-level tagging. "RFID will take fraud out of the system and speed up checkout," said Freeman.
Wal-Mart manager of global RFID strategy Simon Langford declared that "RFID is not just a cool way to collect data, it's how we use the data to drive efficiencies."
RedPrairie vice-president product marketing-RFID Royanna Chappell encouraged her audience to look to RFID for more than retailer compliance, such as for asset tracking. "The right asset at the right inventory level at the right place at the right time," she said. "RFID can take you beyond just-in-time delivery to point-in-time decision-making."
Privacy is a hot issue. Elizabeth Board, who heads EPCglobal's Public Policy Steering Committee, stated that there can be no hidden tags and that deactivation is built-in with Generation 2 technology. "There must be a technical solution beyond just throwing the tag or tagged item away," she said.

And while many remain unperturbed by what they call the near-paranoia of some consumer groups, others like Cedric Laurant, policy counsel, Electronic Privacy Information Center, take it very seriously. "It's not the RFID tag or technology itself that causes our concern, but EPCglobal's lack of policy and concern do." We will report more on this lively session, including P&G's opinions, next month.

Better communication in RFID. I'm not talking about Gen 2 protocols. What was encouraging to me as a reporter covering RFID is that there are more packaged goods companies that not only admit to using RFID, they are willing to talk about their experiences. With more open communication and information exchange, everyone benefits.
Companies in this article