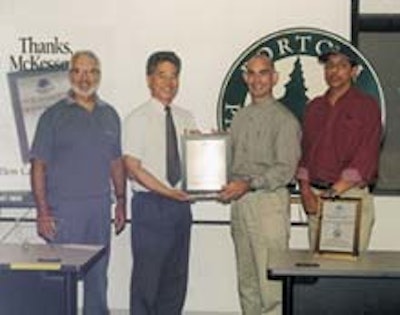 —Prent Thermoforming (Janesville, WI) was honored for the 6th time with the Light Gauge Medical Package Award from The Society of the Plastics Industry, Inc. (Washington, DC).
—Labeling Systems Inc. (Oakland, NJ) has been awarded a federal grant administered through the New Jersey Economic Development Authority's Trade Adjustment Assistance Center.
—Lamart Corp. (Clifton, NJ) received the President's Award from AIMCAL (Alexandria, VA).
—Trex Co. (Winchester, VA) won the eighth annual Connecticut College Inherit the Earth Award gold medal in business for mfg. Trex® Easy Care Decking, made primarily from recycled grocery bags.
—Tulsack (Tulsa, OK) was named manufacturer of the year by the Retail Packaging Manufacturers Assn., Inc. (Covington, KY).
—ISO 9001 certification: Motoman, Inc. (West Carrollton, OH).
—ISO 9002 certification: Clawson Container Co. (Clarkston, MI); Prent Corp., for its Prent-Broadway, Johor Bahru, Malaysia, plant.
Companies in this article