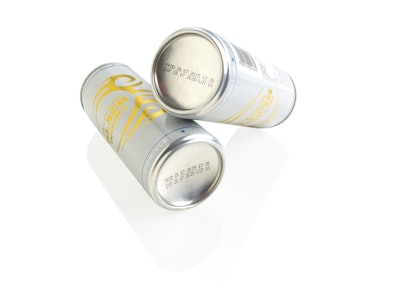 Over a decade ago, Domino Printing invented Blue Tube technology to safely print onto PET bottles with CO2 laser. At PACK EXPO, the company introduced to North America its solution for aluminum can CO2 laser coding with the Domino F720i fiber laser portfolio, a reliable and consistent alternative to conventional ink-jet printers.
Explained the company, fluids consumption, downtime for cleaning procedures, and long changeovers due to packaging variations are creating efficiency challenges for beverage manufacturers. This presents problems in many areas, including the date and lot coding for traceability purposes. To address these challenges, Domino developed a turnkey system for the beverage production environment, The Beverage Can Coding System.
Central to the system is the F720i fiber laser printer with an IP65 rating and robust design, capable of maintaining continuous output in extremely harsh, humid, and temperature-challenging production environments up to 45°C/113°F.
There are five other key components to the system that complement the fiber laser: 1.) The DPX Fume Extraction system, which extracts fumes from the processing area and keeps dust from covering the optics or absorbing the laser power; 2.) Optional camera integration; 3.) A Domino-developed guard with full compliance to laser class-one standards; 4.) The quick-change system, which allow for easy changes for various-sized cans; and 5.) A protection window for lens protection to sustain the highest print quality and simplify cleaning.
Said Jon Hall, Laser Product Marketing Manager for Domino North America, "The Beverage Can Coding system offers clean and clear indelible marking, ideal for compliance purposes and brand protection on aluminum cans. Further, Domino's system can achieve codes on concave surfaces with high quality and a high speed—one system can mark up to 100,000 cans per hour, with over 20 characters per can… . The code quality is consistently excellent even with condensation present on the can. And that is the Domino advantage."
Companies in this article