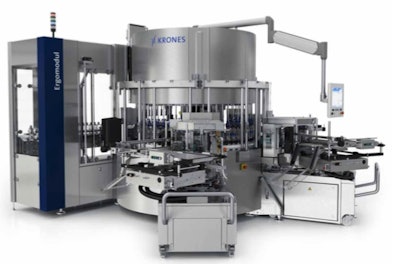 Said by Krones to herald in "the beginning of a new labeling era," the company's ErgoModul (EM) Series Labeling system made its debut at the show. The system, which can be configured for virtually any application, comprises three main machines, six table diameters, and seven labeling station types and offers a number of options for combining individual elements.
The three main machines are 1.) a columnless machine with exchangeable labeling stations; 2.) a columnless machine with fixed labeling stations; and 3.) a tabletop machine. Labeling methods and speeds include pre-cut labels with cold glue or hot melt at 72,000 containers/hr, reel-fed labels with hot melt at speeds to 81,000/hr, and self-adhesive reel-fed labels up to 60,000/hr.
For the columnless machine with exchangeable labeling station option, Krones offers the 801 Ergomodul. The columnless machines with fixed labeling stations include the 802 Ergomatic Pro, the 804 Canmatic Pro, and the 805 Autocol Pro. Tabletop machines include the 892 Ergomatic, the 893 Contiroll, the 894 Canmatic, and the 895 Autocol.
The columnless main machines feature a newly created machine layout that includes the ergonomic replacement of the brushing-on unit, container plate, and centering bells, and optimal use of the brushing-on distances. The machines' standalone labeling stations offer accessibility from three sides, and its hygienic design offers optimal cleaning properties, Krones said.
Companies in this article