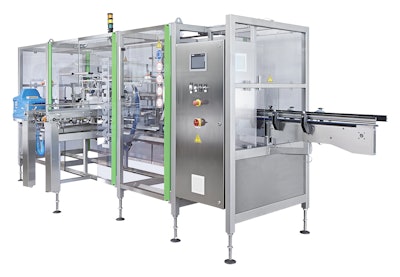 Show Daily Exclusive - A long-established canner for a product found in virtually everyone's pantry wanted a new packaging line capable of handling a variety of can sizes without the use of redundant equipment common on conventional steel can lines.
Thus particular attention was given to choosing flexible machines with positive, repeatable changeover capability to maximize production uptime and achieve long-term efficiency targets.
LINE SPECIFICATION
The line needed to accommodate seven can sizes—211, 300, 307, 404 diameters and three heights—and achieve a speed range of 700–1,000 cans/min. (cpm). Langguth America (Booth S-4122) responded by supplying its hotLAN 310 inline, cut-and-stack labeler. The labeler's capacity was sized to keep up with cans discharging the hydrostat processing system combined with cans simultaneously feeding from a bright stack system. It was vital that the labeler change over easily and positively between can sizes so that new sizes could run to the waiting labeler as opposed to accumulating.
Langguth's hotLAN 310 hot-melt, cut-and-stack labeler applies pre-cut, full-wrap paper or oriented polypropylene labels to round containers such as cans and plastic and glass jars. Classified as an inline system, containers travel straight through the labeler riding on a linear bottom chain rather than via a rotary system which relies on a spinning carousel to label containers.
LABELER OPERATION
The hotLAN 310 labeler maintains containers in an upright position. Containers are picked up by a belt system, which contacts top and bottom to stabilize containers running on the bottom chain. Label application relies on an infinitely adjustable label magazine and a central ProBlue hot-glue melter from Nordson (Booth S-2030).
Advancing containers trip a photoeye and activate the glue modules to spray small donuts of hot melt onto the container body. The container contacts the label stack to pick up the leading edge of the label. As the can spins in the belt system, the trailing edge of the label pulls from the magazine and an extrusion bar applies overlap hot melt. With the label fully wrapped around the container, the jar or can enters a brush station, which pulls the label tight. Labeled containers discharge onto a takeaway conveyor. Optional barcode inspection can be included.
Benefits of the hotLAN 310 inline labeler include maintaining cans in an upright position, thus completely eliminating can twists. Moreover, since hot melt is used for both pickup and overlap, no cold-glue system is needed for the overlap step. A belt-driven design means simple mechanicals with few moving parts. As a result the hotLAN 310 labeler requires few change parts and consumes fewer spare parts than a rotary labeler. In addition to being less expensive than rotary labelers and more flexible than other inline labelers, Langguth's hotLAN 310 model delivers a low total cost of ownership.
Complementing the simplicity of the mechanical design, the labeler operates with high-end controls. The control scheme relies on an Allen-Bradley CompactLogix programmable logic controller (PLC) and PanelView Plus human/machine interface from Rockwell Automation (Booth N-5701) to seamlessly interface with the plant's supervisory system. The all-around, open-access guarding and control scheme meet Category 3 safety standards. To smooth production throughout the line, the labeler PLC exchanges signals with upstream and downstream equipment to balance spikes and valleys and deliver efficient, steady output. The line also includes a flexible tray and film packer and palletizer. With goals for maximum flexibility and efficiency met, the line has been deemed a great success.
Recognized as The Labeling Family, the Langguth family has owned the firm for nearly 90 years. Headquartered in Germany with Langguth America operating as a wholly owned subsidiary, the company manufactures primary package labelers under the brands wetLAN, moduLAN, selfLAN and hotLAN. Machine technology includes cold-glue, pressure-sensitive and hot-melt adhesive labelers in rotary and inline formats for the food, beverage, coatings and chemical industries.
For more information, visit www.langguth-america.com, www.nordson.com/hotmelt, www.rockwellautomation.com. SD
Companies in this article
Videos from Nordson Corporation