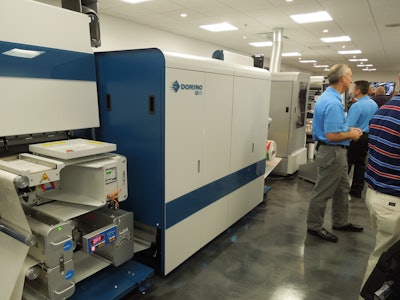 Digital printing and label printing was valued at $10.5 billion in 2015, with digital printing in the packaging market predicted to rise at a Compound Annual Growth Rate of 13.6% through 2020, in Smithers Pira's "The Future of Digital Print for Packaging to 2020."
No question that digital printing is one of the more exciting developments in the packaging space.
"It's reinvigorating our industry," said Scott Fisher, President, Smyth Companies, during the first-ever Digital Printing Spectrum 2016, hosted May 4 and 5 by Domino. "We've gotten a little stagnant," he admitted, referring to the label and package printing business in general.
He said, "Digital printing will play a key role in the future, and it will challenge the status quo."
Personalization is among the most refreshing aspects of the technology, which can greatly reduce turnaround times for customers of printers and converters. "We can get a phone call for a job at 9:30 in the morning and have FedEx picking up the finished work at 1 p.m.," Fisher said.
Of course, he noted, that's only if your personnel is trained to do the job and your company has the software and internal systems that can accommodate digital printing.
For some employees, such change can lead to frustration and disappointment. To address that issue, Fisher suggested the Prosci ADKAR goal-oriented change management model to guide individual and organizational change.
The natural resistance to change is not the only barrier to entry for greater commercial digital printing acceptance, he said. Equipment and related consumables costs and uncertainty about how to sell the technology can also hinder digital printing growth.
Yet the audience at the Domino event were quite receptive to the developing technology. Machine costs continue to become more affordable. Return on investment estimates have declined from seven to 10 years to three to five, said Fisher. Digital printing speeds have risen significantly as well.
Tabletops and printer demos
Nearly 250 non-Domino employees attended this first-time event, including 70 professionals staffing 38 tabletop exhibits, and 20 presenters or panelists. Domino personnel provided live demonstrations of their N610i and K600i digital equipment. The day began with a tour of the company's expanded training facility in Gurnee, IL, which can also be taken virtually.
What does digital printing have to do to become mainstream? Or, is it already there? That was the working title of keynote speaker Kevin Karstedt, CEO of Karstedt Partners, LLC.
An informal audience poll indicated that only three or four believed digital printing was mainstream. About one third of the audience felt the technology was close to becoming mainstream.
Karstedt suggested digital printing supporters "may have set the bar too low" in terms of its use. "We need to look at what is really needed by our customers, by consumers. Step back and take a new perspective. Be responsive to change and be motivated by it."
Packaging trends
Kevin Hayes, Executive VP for Outlook Group Corp., provided insights into consumer trends and how they will impact packaging and printing processes. Some of the takeaways from his presentation included the following:
• "The pace of change in the U.S. market is astounding."
• "The U.S. is the world's largest market for organic products; it's sweeping our country."
• "In the seventies, grocery stores may have carried 10,000 stockkeeping units. Now it's about 130,000."
• "There's a proliferation of private-label and store brands. That includes drug stores where one of them has 17 different house brands. They need shorter runs, but have growing volumes."
• "E-commerce is a big trend—and what will it look like in the future?" He noted that even Amazon wants its shipped products to look just like they would on a retail store shelf. Initially, he said Outlook thought growing E-commerce might trigger the use of plain, unprinted packaging.
• Packaging may focus more on single packs and inexpensive products to appeal to consumers watching their budgets. Hayes cited research noting that 76% of Americans live paycheck-to-paycheck. Worse, he said, the average retiree has savings of only $136,000.
Companies in this article