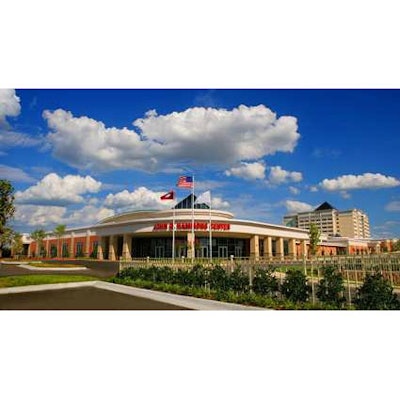 For the sixth year in a row, Walmart and Sam's Club are inviting all of their consumer packaged goods product suppliers and associates to attend the Sustainable Packaging Expo, to be held April 12-13 at the John Q. Hammons Convention Center. This year, Walmart says it has reached capacity on the trade show floor, with more than 200 exhibitors scheduled to demonstrate the latest sustainable packaging innovations.
Explains Amy Zettlemoyer-Lazar, senior director of Packaging & Supplier Diversity for Sam's Club, "The purpose of the event is to connect packaging suppliers that have more sustainable innovations directly with our merchants and our product suppliers in an effort to spur innovation and to accelerate the implementation of ideas."
Among the new exhibitors at the year's event are several smaller, diverse companies, such as minority- and women-owned businesses, as well as some global representation. Among the international vendors are packaging suppliers from India and Mexico that are interested in doing business in the U.S.
Also new this year and of added value for exhibitors, Walmart has organized a formal program for its executives during the afternoon of April 13. Part of the session will include guided tours of the show floor "to help them get the most out of the expo," says Zettlemoyer-Lazar.
Rigorous approval process for exhibitors
As in the past, prospective exhibitors for the expo were put through their paces before receiving approval from Walmart to participate in the event. The first step was to provide company information, along with a success story that demonstrated their product innovation. "We want to understand what they are offering, what they have been able to accomplish with their technology," says Zettlemoyer-Lazar. "A majority of our exhibitors have at least one commercialized application. What we need to see, using the Scorecard Modeling Software, is a comparison of the before and after so that we know there is something more sustainable about the innovation."
Adds Ron Sasine, senior director of Packaging for Private Label at Walmart, "We're interested in innovation. That's why we hold the event. But we also want to make sure that the innovation isn't just up at some 'blue sky' level, but that it's actually applicable and it's something we can commercialize—and commercialize in a short time frame."
The next requirement—established early on in the history of the event—is that all of the exhibitor's marketing materials comply with the Federal Trade Commission's Guides for the Use of Environmental Marketing Claims, also referred to as the Green Guides. All marketing claims are audited by EPI (Environmental Packaging Intl.) to ensure there is no greenwashing. Sasine notes that a streamlined system for submitting marketing materials for audit, along with the industry's growing understanding of sustainability claims has made the process much easier for prospective exhibitors since the early years of the expo.
"In general, the entire industry is becoming more aware and more knowledgeable about what's expected and how to express it," he says. "I feel pretty comfortable that what we're asking exhibitors to do is a model that works for them and works for us and our buyers."
Attendance limited to product suppliers, associates
Last year, the Walmart Sustainable Packaging Expo drew 2,500 attendees. This year, says Sasine, a similar number is anticipated. Attendees to the event will include Walmart and Sam's Club buyers, merchants, and product suppliers, "including both the sales function and packaging logistics and manufacturing functions," says Zettlemoyer-Lazar.
Invitations to the event are distributed by Walmart and Sam's Club buyers to their product suppliers. In past years, attendees were required to walk the floor with their buyers; this year, they can explore the show floor unattended.
In addition to the exhibits, attendees can also register to participate in a number of conference sessions that will be held over the two-day event. Among the topics are sustainable packaging success stories, from both Walmart and Sam's Club suppliers; the fundamentals of paper and plastic packaging; labeling and the FTC guidelines; and Life Cycle Analysis. "We try to get some things that are very, very core to Walmart's commercial efforts, some things that are more general, and then some of the science that backs up both of these areas," says Sasine.
Expo show hours are from 8 a.m. to 5 p.m. Tues., April 12 and from 8 a.m. to 4:30 p.m. Wed., April 13. Walmart or Sam's Club product suppliers interested in attending the Sustainable Packaging Expo are encouraged to contact their Walmart buying representative. Or, click here for more information.