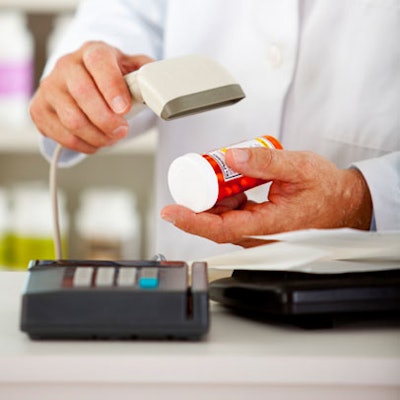 Members of the U.S. pharmaceutical industry are preparing their systems and business processes to meet state drug pedigree requirements by 2015, the beginning of product serialization and visibility in the healthcare supply chain.
GS1 Healthcare US®, an industry group driving the adoption of GS1 Standards in healthcare, is hosting two upcoming workshops designed to help participants understand business and technical aspects of tracking and tracing serialized products through the supply chain. State and federal regulators will be speaking at the workshops, which will take place:
• Oct. 12 and 13, 2010, Hotel Kabuki, San Francisco. Guest speaker: Virginia Herold, executive officer, California Board of Pharmacy
• Nov. 10 and 11, 2010, Gaylord National Resort & Convention Center, National Harbor, MD. Guest speaker: Connie T. Jung, RPH, senior advisor for pharmacy affairs, U.S. FDA.
"The pharmaceutical industry is marching toward the 2015 date for serialization. A fully serialized supply chain will help the industry address a number of scenarios and activities that affect our supply chain today, resulting in improved patient safety and efficiency," says Bob Celeste, director of healthcare, GS1 US.
Serialization is the identification of a product with a unique number at its lowest saleable level, which will aid in supply-chain tracking and tracing efforts.
"The workshops will provide an educational venue for all organizations involved in the supply chain to gain insight and to "experience" a post-2015 pharmaceutical world," Celeste adds.
The workshop includes hands-on training sessions, using simulation technology with GS1 identification and data standards, in order to explore real-world supply chain scenarios that will help organizations make the decisions needed to be ready for 2015.
Those who would most benefit from the workshop training include members of the pharmaceutical supply chain responsible for IT, government relations, logistics, packaging, and supply-chain operations, including contract manufacturers, contract packagers, disposers, hospital pharmacies, kitters, manufacturers, repackagers, retail pharmacies, and wholesalers.
Affiliated associations providing support include the Healthcare Distribution Management Assn., the National Coalition of Pharmaceutical Distributors, the National Council for Prescription Drug Programs, and the Bio Supply Management Alliance.
Registration
To register for the upcoming 2015 Readiness Workshops, visit: www.gs1us.org/hcworkshop.
To attend a webinar, and to learn more about the workshops on Oct. 6, go to: www.gs1us.org/hcedu.
The workshops are based on the concepts developed and validated by the 2015 Readiness Program, which GS1 Healthcare US launched in late 2009. Participants in the 2015 Readiness Program recently completed and published an Industry Reference Model to simulate basic forward logistics in the U.S. pharmaceutical supply chain. A new report is available that details:
• Lessons learned in creating the simulation model
• Insights about basic forward logistics in a post-2015 pharmaceutical supply chain
• Early indicators about existing processes that will likely support state drug pedigree
To download the new report, 2015 Readiness Program: Phase 1 Report – Basic Forward Logistics, go to: www.gs1us.org/2015ready.
About GS1 Healthcare US®
GS1 Healthcare US is an industry group that focuses on driving the adoption and implementation of GS1 Standards in the healthcare industry to improve patient safety and supply chain efficiency. GS1 Healthcare US brings together members from all segments of the healthcare industry to address the issues that most impact healthcare in the United States.
About GS1 US™
GS1 US is a not-for-profit organization that brings industry communities together to solve value-chain problems through the adoption and implementation of GS1 Standards. More than 200,000 businesses in 25 industries rely on GS1 US for trading-partner collaboration and for maximizing the efficiency, visibility, security and sustainability of their business processes. They achieve these benefits through GS1 US solutions based on GS1 global unique numbering and identification systems, barcodes, Electronic Product Code™-enabled RFID, data synchronization, and electronic information exchange. GS1 US also manages the United Nations Standard Products and Services Code® (UNSPSC®).