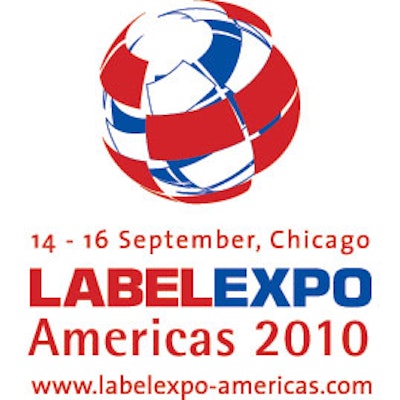 Dominant themes on Tuesday's opening day of Label Expo 2010 were sustainability, speed, and graphic flexibility. Creative teams at consumer packaged goods companies that look to develop package labels with these three benefits in mind can create all-around winning strategies for their brands.
Sustainability is a hot-button area for CPG companies; 98% of them say eco-friendly initiatives are an important consideration in their packaging strategies, Rosemary Grabowski, vice president-global marketing development at Dassault Systèmes, told a Label Expo conference audience. However, she estimates that only 50% of CPG companies have implemented end-to-end processes to follow through on it.
Grabowski cited a PricewaterhouseCoopers study stating that brand owners who invest in holistic sustainability efforts report 15% higher profit margins than companies that don't make such an all-encompassing effort.
"The companies that do it well, with an integrated strategy, are the companies that are going to succeed," said Grabowski, whose background includes packaging innovation project management at Cadbury.
An end-to-end sustainability strategy, Grabowski explained, requires a commitment to examining all aspects of the process. A good place to start an analysis, she added, could be to work backward from end requirements, such as the Walmart packaging scorecard, and then into the supply chain, suppliers' suppliers, and ultimately, finishing at the beginning—the materials themselves.
The shift in consumer sentiment toward environmentally friendly packaging took off over the past several years, and Fred Rosenzweig sees a similar sea change on the horizon that will put digital label printing squarely in packaging teams' discussions in the near future. Rosenzweig, president of EFI, estimated in a press conference that digital printing today comprises less than 1% of the $30 billion label market.
"I still don't think that brand owners understand the value of what digital printing can bring in this market," Rosenzweig said.
Digital label printing, he predicted, will take off once packaging teams become aware that it carries multiple benefits they can't always get with other printing options. "It's being able to put out promotional packaging much faster, making changes faster, versioning faster," he explained.
"These capabilities are not widely known among the brand owners, but they will be in the next year or so."
Label Expo continues through Thursday at the Donald E. Stephens Convention Center in Rosemont, IL.