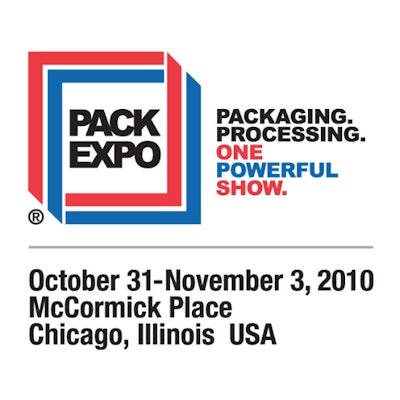 The Grocery Manufacturers Association (GMA) is partnering with the Packaging Machinery Manufacturers Institute (PMMI) and co-locating the first ever Manufacturing Excellence Conference during this fall's Pack Expo International 2010 (October 31-November 3; McCormick Place, Chicago, IL). The Manufacturing Excellence Conference will deliver two days of education on topics including product safety, sustainability, and operational reliability. The event will be held Monday, November 1 and Tuesday, November 2, as part of the four-day Pack Expo International tradeshow being held October 31-November 3, 2010 in Chicago, IL at McCormick Place.
"We are extremely pleased to have the leading trade association that represents the world's food, beverage, and consumer packaged goods companies to co-locate this important event during Pack Expo International," said Charles. D. Yuska, President and CEO of PMMI. "GMA member companies such as Kraft, Georgia Pacific, Coca-Cola, Unilever, and The Hershey Company attend Pack Expo International to find the latest in processing and packaging solutions, and now they can benefit from world class education from GMA's Manufacturing Excellence Conference."
"The PMMI Pack Expo International Trade Show, with more than 1,600 exhibitions and over 45,000 attendees, is the perfect venue to host a comprehensive manufacturing conference that will deliver new and innovative solutions for our industry's most pressing issues," notes Pamela G. Bailey, President and CEO of GMA. "By partnering with PMMI, our goal is to provide GMA members and all of our industry partners a forum where we can work to align manufacturing, engineering, and plant management problem solving in the critical areas of product safety, sustainability, and operational reliability."
Also making its Pack Expo International debut is the DistriPak Pavilion, sponsored by NPTA Alliance (formerly the National Paper Trade Association). The NPTA Alliance represents the $60 plus billion paper, packaging, and supplies distribution industry, and its members serve a wide range of end users, including manufacturers within every segment: electronics; food & beverage/wine; bakery & snack; cosmetics & toiletries; dairy; pharmaceuticals; chemical; candy & confectionery; and paper & textiles.
NPTA Alliance CEO Newell Holt, noting that the DistriPak Pavilion was part of Pack Expo Las Vegas 2009, says "Because NPTA Alliance will be at Pack Expo International 2010, distributors and end users will get a chance to connect with distribution firms and each other. Attendees will benefit from a new avenue for finding the leading industrial packaging distributors and machinery and materials manufacturers who sell through the distribution channel. For exhibitors, it's a way to reach end user and distributor senior executives and purchasing decision makers of highly-qualified prospects."
Finally, Pack Expo 2010 will also feature a new Reusable Packaging Pavilion, sponsored by the Reusable Packaging Association (RPA). RPA will also host a series of educational sessions and workshops on the final two days of the show. The collaboration, now in its second year, is part of an on-going effort by PMMI to facilitate value-added programming around Pack Expo and help processors and packagers get more accomplished in a single trip.


"From the beginning, Pack Expo has been committed to evolving with the needs of its global audience," says PMMI's Yuska. "Adding a pavilion that focuses on reusable packaging, which offers brand owners economic, environmental and social benefits, allows attendees to expand their knowledge while spending time in one convenient location."


Located in McCormick Place's Lakeside Center, the Reusable Packaging Pavilion will span 3,000 net square feet and feature more than 20 exhibitors spotlighting reusable pallets, hand-held containers, bulk containers, dunnage, and other transport packaging solutions.


RPA will also sponsor a series of educational sessions and workshops on Tuesday November 2 and Wednesday November 3. Led by industry experts and end-users, the sessions will focus on a range of topics related to reusable packaging including sustainability, safety, RFID and effects on the supply chain. Each day's schedule will also include a keynote presentation. Speakers will be announced in the coming months.


"RPA is pleased to sponsor the Reusable Packaging Pavilion and education sessions as a way to provide additional value to Pack Expo attendees," says Bob Klimko, Chairman of the Reusable Packaging Association. "Our goal is to provide insight about how reusable transport packaging can impact productivity and profitability – from lower shipping and labor costs to better product protection and a more efficient flow of goods through distribution channels."
Companies in this article