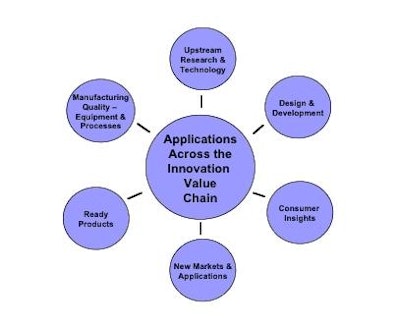 How can frozen foods be protected against temperature abuse?
What novel technology can eliminate or delay spoilage of refrigerated dairy products caused by mold?
What is the latest microwave packaging technology?
Those and similar solicitations for technology solutions have been posed by
NineSigma
and posted at www.Ninesigma.com on behalf of clients that have included General Mills, Hershey Foods, Kraft Foods, and The Schwan Food Co.
NineSigma offers an avenue to find solutions to packaging-related problems outside your company's four walls. It includes the posting of Requests for Proposals (RFPs) at its Web site, but those public postings are only part of its approach, which also includes the following:
* An e-mail blast is sent to network members comprised of tens of thousands of users
* E-mails are also sent to targeted solution providers; can be anywhere from two to 10,000 individuals
* Through the NineSigma Affiliate Program, affiliates can posting RFPs on their own Web sites that are relayed to their own members as an "unlimited" social networking process.
Packaging Insights is told that NineSigma customers have to be under contract to have RFPs posted. Contracts are generally a minimum of 5 projects within a certain time frame. There are customers who sign up for 10 projects.
Good news for "smaller" companies
Admittedly, NineSigma's involvement carries a corresponding price tag, and generally it works with companies having revenues above $1 billion. However, there are currently exceptions to the rule, and the company is currently exploring product and service offerings for 2008 that would appeal to smaller companies.
According to NineSigma program manager Kevin Andrews, the majority of RFPs are food companies, followed by consumer products companies.
Packaging Insights
also asked Andrews to shed some light on trends reflected in the RFPs that NineSigma has undertaken. His reply: active packaging that can provide antimicrobial properties through temperature control or adjustment; and sustainable materials, including from nonpetrochemical sources. NineSigma is also seeing a trend in inventory tracking. "RFID tags are growing in interest not only for consumer goods manufacturers, but to companies involved in distribution," he reports.
For further information, see
Hershey calls for brainstorming expertise
visit
www.ninesigma.com
.
Companies in this article