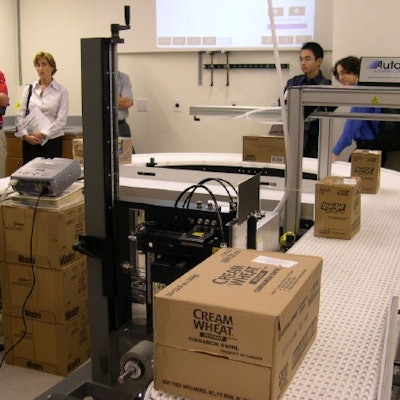 It became apparent some years ago that RFID implementation efforts could be aided by facilities where companies could conduct RFID tests, perhaps under real-world type conditions. Thus was born the RFID Labs or Test Centers that have since sprung up throughout the country; they are listed below in alphabetical order. The location is the lab location rather than the headquarters if different. If we have missed any, please e-mail me at lingle@packworld.com and we'll update this directory.

ADT Test Lab, Boca Raton, FL
www.sensormatic.com
This 6,000 sq ft RFID Performance Test Center is one of two operated by the company that are EPCglobal-accredited; the other is in The Netherlands. It includes label placement processes, high-speed loop conveyor, door portal testing, and stretch-wrap testing.

Alien Technology RFID Solutions Center Dayton, Dayton, OH
www.rfidsolutionscenter.com
Billed as the most advanced facility devoted entirely to the application of RFID technology. Open to enterprises, government agencies and their partners, the Center comprises 23,000 sq ft of educational, R&D and real-world implementation resources.

Babush Material Handling-RedPrairie RFID Technology Center, Milwaukee, WI
www.babush.com
3,200 sq ft facility offers high-speed conveyors and conveyor portals at rates up to 600 ft/min and case labeling up to 60 cases/min.

California Polytechnic State University (Cal Poly) RFID Test Center, San Luis Obispo, CA
http://polygait.calpoly.edu
Cal Poly has operated its RFID Test Center for three-plus years. The 3,500-sq-ft-interdisciplinary RFID test lab features the following equipment: Anechoic chamber, three Alien Technology ALR-9780 UHF development kits, Berkeley Varitronics Systems' Bumble Bee multifrequency Spectrum Analyzer, custom 600-fpm conveyor system; Garvey Corp. 130 fpm conveyor system, EMC (Electro-magnetic compatibility) chamber, Symbol XR400 UHF development kit with 2 Texas Instruments series 2000 LF development kits, Zebra R110Xi UHF smart label printer and R2844-Z HF smart label printer, and Instant EPC HotspotT v2.5 (used to identify the optimum location for a tag on a package) and Instant EPC MobileT system.
Contact: Jay Singh, Ph.D. packaging program director. Phone: 805/756-2129, email: jasingh@calpoly.edu
HP Innovation Labs, Toronto, Canada, and Memphis, TN
www.hp.com or http://h20223.www2.hp.com/NonStopComputing/cache/51817-0-0-225-121.aspx
The 1,200-sq-ft Toronto facility operates a 650 fpm "raceway" conveyor and features equipment from more than 20 RFID vendors.
The 2,000-sq-ft Memphis facility is a "noisy" lab located within an active HP warehouse that offers a real-world environment. It also houses a 650 fpm raceway conveyor along with hardware and software. The lab was recently relocated from Omaha.
Customers are invited to visit and use the labs, which are set up to handle RFID testing including supply-chain management and smart-shelf technology. HP is also looking to study RFID-enabled kiosks for retail.
Hewlett-Packard also operates RFID lab facilities in Japan, Singapore, and Great Britain.
Contact: Toronto: John Keogh, phone 416/566-7611 or e-mail john.keogh@hp.com
Memphis and other labs: Frank Lanza, phone 508/467-4064 or e-mail frank.lanza@hp.com

James Madison University, Harrisonburg, VA
www.jmu.edu/iiia
A multi-protocol reader, with four antennas and multi-protocol RFID printer; hand-held RFID reader; middleware; WMS with custom RFID module; 80 ft/min circular conveyor system; 860-930 MHz passive tag system capability.
Contact: Geoffrey Egekwu at Egekwuog@jmu.edu.
The Kennedy Group RFID Customer Solution Center, Willoughby, OH
www.kennedygrp.com
A 7,000-sq-foot RFID Customer Solution Center is designed to test product along with software solutions, so businesses can learn more about the technology and how it will improve their supply chain control and customer service. Smart products are tested in manufacturing, warehousing, and distribution simulations to ensure that they meet the unique needs and demands of its customer base. The Center is equipped with the latest software, readers, printers and printer applicators to perform dock door and high-speed conveyor testing. The facility also helps customers verify that the technology will work in their application through third-party verification processes.
Contact: Douglas Torok, market manager – Logistics & RFID Solutions. Phone: 440-951-7660, e-mail: dtorok@kennedygrp.com

Loftware RFID Lab, Portsmouth, NH
www.loftware.com
30,000 sq ft facility features a Printronix SPLA7000e Series RFID Label applicator, 65' loop conveyor with divert conveyors; pallet racks; pallet conveyor; multiple RFID Portals utilizing multiple supported readers (Alien, Symbol, Intermec, etc.); 3 RFID door portals; and a dock door portal with trailer.
Lowry Computer Products RFID Innovation Centers, Brighton, MI, and Irvine, CA
http://www.lowrycomputer.com/technologies/rfidepc/
Lowry operates two state-of-the-art RFID Innovation Centers, located in Brighton, MI, and Irvine, CA. Key services include determining and testing optimal tag selection and placement for RFID applications. Lowry also offers comprehensive, industry-recognized RFID training and certification.

Massachusetts Institute of Technology Test Labs, Cambridge, MA
supplychain.mit.edu/research/rfid.aspx
The RFID Systems Integration Laboratory invites vendors, users and especially supporters to contribute, participate and guide the set–up, experimentation and innovation at the RFID Lab.
(see An inside view of RFID R&D at MIT, published July 2005)

Michigan State University, East Lansing, MI
www.rfid.msu.edu
RFID Systems include circular and linear antennae designs from Matrics and Alien Technology. Research has included topics such as "The effect of tag orientation and package content on the readability of RFID transponders."
(See RFID variables tested, published December 2006)

Miles Technologies, Elk Grove Village, IL
www.rfidlabeling.com/lab_about.html
A 6,500 sq' training center and RFID test center with integrated RFID commissioning systems includes conveyors, readers, computers, and software.
(see Getting schooled in RFID, published June 2006)
Northern Apex Corp., Ft Wayne, IN
www.northernapex-rfid.com
The company operates an indoor/outdoor test and R&D facility equipped with conveyor systems and what it calls equipment from "best of breed" manufacturers. Tests can be conducted using all frequencies: UHF, HF, 433 MHz, and others, as well as range of auto-ID components.

PEAK Technologies' RFID Solutions Center, Columbia, MD
www.peaktech.com
The RFID Solutions Center, with a 750-fpm conveyor system, allows customers to understand the best ways to use technology through a detailed lab process that includes testing packaging composition in terms of RFID signal propagation; tag placement and orientation; read range validation and antenna selection; portal and product-conveyor performance; and a host of other best-fit solutions.
The RFID Alliance Lab, Lawrence, KS
www.rfidalliancelab.org
Housed at the University of Kansas, the RFID Alliance Lab is a not-for-profit testing facility that provides objective benchmarking reports on RFID equipment. It can perform research/testing of RFID tags and readers in the following areas:

Frequency dependence and radiation patterns
Read rates in population
Performance variance within a single tag type
Performance near water and metal
Performance of devices in noisy environments
Physical durability, such as impact, abrasion, scraping, Electrostatic Discharge (ESD)
Read distance
Write performance
Contact: Dr. Dan Deavours, rfid-info@ittc.ku.edu or phone 785-864-7764.

Rockwell Automation, Milwaukee, WI, and Cleveland, OH
www.rockwellautomation.com/solutions/rfid
The 900 sq ft RFID demo center at its global HQ in Milwaukee helps manufacturers design and implement an RFID solution. The facility operates a depalletizing/repalletizing conveyor with ControlLogix controller, RSViewSE HMI terminal, and 2 different model Alien Technology RFID readers ported via an EWEB module in the controller.
The company also operates an RFID portal at its Demo Center in Cleveland, OH; it is currently working on converting these demos over to Symbol/Motorola readers due to the fact that the company is adopting EtherNet/IP for communications.

Sun Microsystems, Longmont, CO
www.aptesting.com/rfid.htm
The facility moved from Dallas, TX to this 32,000 sq ft facility that's equipped to help companies meet specific standards requirements like those stipulated by Wal-Mart, Target, Albertsons or the U.S. DoD.

UCLA WinRFID Pilot Lab, Los Angeles, CA
winmec.ucla.edu/rfid/winrfid-lab
The WinRFID Pilot Lab consists of a variety of hardware from vendors of readers, tags, antennas. This lab is used to perform tests and pilot studies for research and application projects.
(see GPS track-and-trace demo, published December 2005)

University of Arkansas RFID Research Center, Fayetteville, AR
itri.uark.edu/rfid
The Information Technology Research Institute created its first sub-unit, the RFID Research Center, in 2004. The center's base of operations is a lab that models a production warehouse environment in 8,000 sq ft donated to the center by Hanna's Candles and located off-campus within Hanna's manufacturing and warehouse facility.

University of Florida, Gainesville, FL
edis.ifas.ufl.edu
The 5,000 sq' lab is devoted to RFID as well as other auto-identification technology. Equipment is from vendors including Alien and Symbol, and increasingly from OEM RFID suppliers such as Sirit. Lab specializes in building and testing new identification software/hardware system prototypes.
(see UF squeezes out more R&D projects, published November 2006)

University of Houston RFID Lab, Houston, TX
www.bauer.uh.edu/rfid
Started in 2003, the mission of the UH RFID Lab is to gather, create, and disseminate knowledge on RFID Technology. Lab setup is two Mantis readers and active RFID tags networked to 20 computers. Focused on business issues of RFID rather than technical issues.
Contact: Vlad Krotov at vokrotov@uh.edu.

University of Wisconsin-Madison, Madison, WI
www.uwebc.org/rfid
The facility offers three stations that include a portal/dock-door station; a conveyor loop with speeds to 600 fpm; and an antenna and tag design station. Can use RedPraire, Alien, or Symbol software, plus Rockwell Automation control software and HMI.
Special capabilities: transportation and inventory tracking experiments; portal accommodates large trucks; can test more than three antennas at a time; readings triggered by photoeye.
(see UW RFID lab inauguration, published September 2005)


VeriSign RFID Labs, Dallas, TX, and San Francisco, CA
www.verisign.com/global-consulting/supply-chain-services/supply-chain-consulting/rfid-labs.html
VeriSign helps customers identify the right set of sensory technologies for their supply chain through testing at the VeriSign RFID Labs, a working supply chain environment. At each lab site, you can view tagged products as they move from warehouse floor to distribution center to retail store to point of sale. See a full retail shelf demo in its San Francisco RFID Lab.

Villanova University RFID Lab, Villanova, PA
www.rfidlab.org
Radio Frequency Identification (RFID) Lab was established in 2005 as the newest lab within Villanova's Center for Advanced Communications (CAC). The Lab provides capabilities for the development of new RFID technologies and prototype designs. It hosts testing facilities for RFID products, and supports the evaluation of RFID tag and RFID-assisted tagged localization methods, collision avoidance techniques, and signal propagation characteristics.

Western Michigan University, Kalamazoo, MI
homepages.wmich.edu/~bazuinb/RFID_Lab.htm
Lab offers four-column box-truss RFID portal. Matrics and Alien Technology readers, and various analytical equipment such as spectrum/network analyzer.

Xterprise RFID Solution Center, Carrollton, TX
www.xterprise.com
The 6,000 sq ft RFID Solution Center provides an operational warehouse/manufacturing environment to showcase the company's complete suite of solutions, which it has deployed around the globe.







Companies in this article